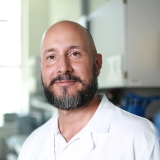 Keywords
Actinomyces; Clinical virology ; Cytomegalovirus; Helicobacter; Immunity, Humoral; Immunosuppression
Research interests
Cytomegalovirus Infection
The focus of our research is on the interaction between Cytomegalovirus and the human immune system. This human herpesvirus employs more than 100 different mechanisms that allow the virus to modulate and subvert the host's immune response but is counteracted successfully by the human immune system. We aim at elucidating critical immunological and biological mechanisms, that may tip the balance towards human disease.
More recently, we developed the method for studying the viral microbiome in a diversity of clinical samples. To correlate the viral microbiome and selected viruses with health and disease, multiple collaborations have been established including the Department of Surgery, Core Facility of the Medical University of Graz, Department of Neurologie, etc.
In addition, we study gastrointestinal infections for the identification of effective preventive and therapeutic strategies. These projects are done in close collaboration with several Centers for Gastrointestinal Medicine.
Techniques, methods & infrastructure
Virome studies
Virus culture
Molecular biology (General)
ELISA, Westernblotting