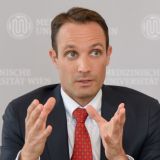 Keywords
Adipose Tissue, Brown; Energy Metabolism; Obesity; Retinoids
Research interests
Our laboratory focuses on two major areas: 1) identification of novel molecular pathways related to energy metabolism with particular emphasis on brown fat, "browning of white fat", and thermogenesis; and 2) clinical/translational research including functional imaging (PET/CT, PET/MRI) to understand the physiology of human brown adipose tissue and its relevance for metabolic disease. Current projects involve the transcriptional role of the vitamin A/retinoid axis in adipose biology, thermogenesis, and energy expenditure. Previous work has been related to obesity-induced inflammation and insulin resistance in adipose tissue and liver.
Techniques, methods & infrastructure
A wide spectrum of preclinical in vivo methods such as insulin and glucose tolerance tests, indirect calorimetry (metabolic cage analysis), cold exposure studies, various surgical models, microPET studies (in collaboration with PIL). Molecular biology techniques include gene expression analyses using quantitative real-time RT-PCR, immunohistochemistry and fluorescence microscopy, protein analysis (immunoprecipitation, western blot), chromatin immunoprecipitation (ChIP), ELISA, plasmid preparation, cell culture, transient and stable transfections (shRNA, siRNA) and others. Metabolic assesments in humans including indirect calorimetry, bioelectrical impedance analysis, PET/CT and PET/MR (in collaboration with Department of Biomedical Imaging).