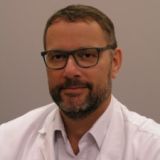 Keywords
Blood Group; Granulocyte Immunology; Immunization; Immunohematology; Red Cell
Research interests
Many international research cooperations focusing on immunohematology, the genetic background and phenotypic characterization of blood group variants, hemogenetics, transplantation immunology, granulocyte physiology and inflammation. Further areas of interest include , hemolytic disease and immunization against different blood cells are investigated.
Techniques, methods & infrastructure
Specialized on immunohematologic studies, a wide array of extended serologic and molecular genetic methods as well as flow cytometry are employed.