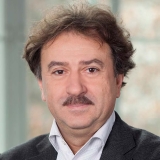 Keywords
Adaptive Immunity; Bacterial Infections; Immunity, Innate; Intercellular Signaling Peptides and Proteins; Intracellular Signaling Peptides and Proteins; Macrophages
Research group(s)
Research interests
I am interested in the structure and function of surface receptors on T cells and antigen presenting cells to identify novel targets for influencing abnormal and unwanted immune reactions in immunological disorders and diseases. Internationally well recognized are the investigations, which contribute to the understanding of how GPI-anchored receptors transduce signals across the plasma membrane. These studies were fundamental for the identification and characterization of special membrane microdomains, called lipid rafts, which are more and more characterized to control signal transduction across the plasma membrane. At the moment, I am focusing on the development of: 1) 3G nanodevices to specifically transport drugs and factors to pathologic cells in immunological diseases, 2) novel assays for the diagnosis of bacterial infections and 3) advanced imaging to analyze the dynamic of receptors and signaling molecules in the immunological synapse of living T- and antigen presenting cells with the aim to obtain novel insight into the initiation and control of the adaptive immune response and for identifying nanostructure-markers and targets for precision medicine. I published more than 200 scientific papers, a variety in the very top journals such as Cell, Science, Nature Methods that count for an h-factor of 54.
Techniques, methods & infrastructure
Cell culture, multi-parameter flow cytometry, molecular cloning, shRNA silencing, various immunological techniques (isolation, cultivation and stimulation of immune cells, ELISA, immunofluorescence, immunobiochemistry including immunoprecipitation and multiplex immunoblotting, etc), chromatography, advanced imaging (single molecule analysis). Top-level infrastructure including tissue culture, HPLC, FPLC, various immunodetection systems including ELISAs and Luminex, super-resolution fluorescence microscope for live cell imaging and advanced flow cytometers able to sort and analyse up to 18 cellular parameters, that are crucial for multicolour and functional analyses of immune cells.