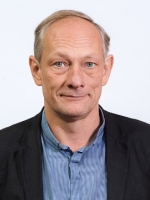 Keywords
Amplifiers, Electronic; Electric Stimulation; Implantable Neurostimulators; Telemetry
Research interests
My research interest is directed to the field of Neuroprothetics, which is a discipline related to neuroscience and biomedical engineering concerned with the development of neural prostheses. Neural prostheses are a series of devices that can substitute a motor, sensory or cognitive modality that might have been damaged as a result of an injury or a diseases. Actually my work is focused on the development of implantable devices for the nerve and muscle stimulation in small animals.
Techniques, methods & infrastructure
For the development of active implantable devices a range of technologies in the field of mechanics, electronics and software engineering are required. A workshop, workplaces for electronic assembly or software development and a clean room are part of our Center for Medical Physics and Biomedical Engineering.
Selected publications
Gugatschka M, Jarvis JC, Perkins JD, Bubalo V, Wiederstein-Grasser I, Lanmüller H, Gerstenberger C, Karbiener M. Functional Electrical Stimulation Leads to Increased Volume of the Aged Thyroarytenoid Muscle. Laryngoscope. 2018 Oct 3. doi: 10.1002/lary.27342
Schmoll M, Unger E, Bijak M, Stoiber M, Lanmüller H, Jarvis JC. A novel miniature in-line load-cell to measure in-situ tensile forces in the tibialis anterior tendon of rats. PLoS One. 2017 Sep 21;12(9):e0185209. doi: 10.1371/journal.pone.0185209. eCollection 2017
Lanmüller H, Wernisch J, Alesch F. Technical analysis of dual channel pulse generators used in deep brain stimulation; a safety evaluation. Acta Neurochir (Wien). 2009 Jan;151(1):63-7; discussion 67. Epub 2008 Dec 20.
Lanmüller H, Ashley Z, Unger E, Sutherland H, Reichel M, Russold M, Jarvis J, Mayr W, Salmons S. Implantable device for long-term electrical stimulation of denervated muscles in rabbits. Med Biol Eng Comput. 2005 Jul;43(4):535-40.
Lanmüller H, Sauermann S, Unger E, Schnetz G, Mayr W, Bijak M, Girsch W. Multifunctional implantable nerve stimulator for cardiac assistance by skeletal muscle. Artif Organs. 1999 Apr;23(4):352-9.