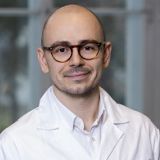 Keywords
HIV; Homeless Persons; Homosexuality; Mental Health; Occupational Health; Public Health; Social Discrimination; Social Stigma; Sports Medicine; Vulnerable Populations
Research group(s)
Grabovac Group
Head: Igor Grabovac
Research Area: Our group within the Department of Social and Preventive Medicine focuses on health behavior and preventive measures in vulnerable populations (LGBTIQ+, homeless, refugees and displaced people among others).
Members:
Research interests
My research focus encompasses a variety of public health topics, mostly focusing on health behaviour and modification of health behaviour through individiually tailored interventions and environmental changes, as well as a need for social medical responsibility in achieving health in all communities. Within this topic I am mostly interested in discriminated and stigmatized communities such as people living with HIV/AIDS, LGBTIQ individuals, older adults, drug users, homeless people among others to see if they and how they achieve good health.
Techniques, methods & infrastructure
Our multidisciplinary team uses a variety of clinical medical tests such as body impendance analysis, accelerometer monitoring, heart variability, 24h ECG monitoring, cardiac stress testing, hand strength measuring. We also use a variety of questionnaires for different outcomes and qualitative interviews and focus group analysis. By accessing and evaluating data from large open datasets we examine various outcomes using a variety of statistical methods.