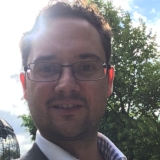 Keywords
Image Processing, Computer-Assisted; Medical Physics; Radiotherapy, Image-Guided; Software Design
Research group(s)
Medical Radiation Research
Head: Dietmar Georg
Research Area: The vision of our group is the optimization of the treatment outcome of radiation oncology, alone or in combination with established chemotherapy or novel targeted strategies of drug treatment, with conventional photon or innovative ion-beams.
Members:
Research interests
My primary research focus is on real-time tumor tracking of moving tumors (e.g. due to breathing or dynamic changes in organ filling) in radiotherapy to manage precise dose delivery and decrease planing target volumes to avoid irradiation of healthy tissue and therefore minimize side effects in patients.
Techniques, methods & infrastructure
Real-time 2D/3D image registration
Rendering of Digitally Reconstructed Radiographs (DRR)
Ray-Casting Methods on GPU (Cuda)
Merit-Functions like Stochastik-Rank-Correlation, Cross-Correlation, Mutual-Information, etc.
Optimizer algortihms used for image registration
Internal/external motion correlation models (including prediction)