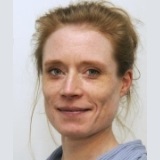 Keywords
Microscopy, Electron, Transmission; Osteoarthritis; Secretory Pathway
Research interests
Configuration of the cellular surface, and in many cases also the extracellular environment is fundamental to all cells from bacteria to eukaryotes and essential for the multicellular organization of tissues and organisms. Consequently, disruptions of the underlying process, secretion, can cause malformations and disease. Given the high secretory load and broad range of sizes and shapes of cargo molecules, this is especially true for cartilaginous tissues, and may well play a role in the pathogenesis of osteoarthritis (OA). The prevalence of OA is on the rise as the population is increasingly aging. In short, a very fundamental cell biological problem is of potentially high medical significance. To address this problem we are concentrating on the first, rate-limiting step of the secretory pathway, ER-to-Golgi traffic. Besides this main focus, we are also investigating a connection between autophagy, ER exit and osteoarthritis.
Techniques, methods & infrastructure
We are using transmission electron microscopy, antibody labeling of cells and tissues (incl.immunogold - Tokuyasu technique) and standard cell biological techniques. We are in the process of establishing in-situ hybridization on tissue sections in the lab. We are open to collaborations using EM.
Selected publications
The high mobility group transcription factor Sox8 is a negative regulator of osteoblast differentiation. Schmidt K, Schinke T, Haberland M, Priemel M, Schilling AF, Mueldner C, Rueger JM, Sock E, Wegner M, Amling M. J Cell Biol. 2005 Mar 14;168(6):899-910
Early stages of retinal development depend on Sec13 function. Schmidt K, Cavodeassi F, Feng Y, Stephens DJ. Biol Open. 2013 Mar 15;2(3):256-66
Organisation of human ER-exit sites: requirements for the localisation of Sec16 to transitional ER. Hughes H, Budnik A, Schmidt K, Palmer KJ, Mantell J, Noakes C, Johnson A, Carter DA, Verkade P, Watson P, Stephens DJ. J Cell Sci. 2009 Aug 15;122(Pt 16):2924-34
Efficient coupling of Sec23-Sec24 to Sec13-Sec31 drives COPII-dependent collagen secretion and is essential for normal craniofacial development. Townley AK, Feng Y, Schmidt K, Carter DA, Porter R, Verkade P, Stephens DJ. J Cell Sci. 2008 Sep 15;121(Pt 18):3025-34
Sec16 determines the size and functioning of the Golgi in the protist parasite, Trypanosoma brucei. Sealey-Cardona M, Schmidt K, Demmel L, Hirschmugl T, Gesell T, Dong G, Warren G. Traffic. 2014 Jun;15(6):613-29