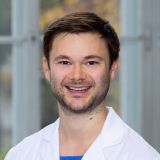 Keywords
Animal Experimentation; Arrhythmias, Cardiac; Cardiac Catheterization; Cardiac Electrophysiology; Cardiac Imaging Techniques; Cardiac Pacing, Artificial; Cardiac Resynchronization Therapy; Cardiovascular Diseases; Coronary Artery Disease; Myocardial Ischemia
Research interests
Martin Riesenhuber is a medical doctor focused on clinical cardiology and cardiovascular research with broad experience in cardiac device therapy, electrophysiology and large animal models, including diagnostic and interventional coronary angiography, cardiac imaging, device and drug testing and translational studies for cardiac remodeling in pigs. He is part of the consortium of CResPace EU-project, developing a new generation of CRT devices, adapting beat-to-beat to the individual needs of patients.
During the diploma program medicine at the Medical University of Vienna (completed in 2017) he received two merit-based scholarships, gained experience in preclinical intensive care medicine and analyzed up to 1,300 24h-ECGs. He did 8 months of clinical training in Switzerland.
Working within the research group of Univ. Prof. Dr. Pavone-Gyöngyösi since 2015, he is a PhD candidate since 2017.
Techniques, methods & infrastructure
Coronary angiography in pigs (creation of 190 reperfused myocardial infarcts and 165 diagnostic angiographies in pigs from 09/2017 to 07/2018)
Cardiovascular Imaging including cardiac MRI
Cardiac Drug Testing
Cardiac Device Testing
Broad experience in Pressure-Volume loops of the left ventricle