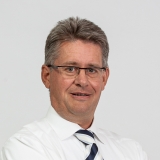 Keywords
Diagnostic Imaging; Medical Physics; Radiation Protection; Radiation, Ionizing; Tomography, X-Ray Computed
Research interests
Prof. Homolka's main research interests are linked to digital x-ray imaging and interventional radiology physics and dosimetry. This includes optimization of procedures, determination of radiation doses, Dose reference levels and imaging hardware. Recently application of 3D printing in the design and production of radiological phantoms for both, dosimetry and procedure optimization, became a main focus. With regard to teaching, the education and training of clinical medical physicists and medical Physics PhD candidates are Dr. Homolka's major concerns. Other teaching assignments include basic courses for BME and physics master students on imaging physics and current CT technology, and medical physics and radiation protection on Bacc level.
Techniques, methods & infrastructure
Our dosimetry lab offers reference grade dosimeter systems including PTW electrometer systems with an assortment of ion chambers, semiconductor devices and TLDs. In the X-ray lab a Bucky system, a fluoroscopy and a portable x-ray system are ready to use. Additive manufacturing is available trough the 3D printing lab at our department.