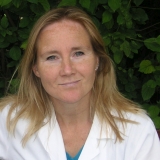 Keywords
Arthritis, Experimental; Bone Diseases; Inflammation
Research interests
My major research interest focuses on the identification of pathophysiological mechanisms involved in inflammatory bone and cartilage damage like in patients suffering from Rheumatoid Arthritis. Therefore we use various well-established animal models. The contributing role of various inflammatory cells, cytokines or other mediators on joint and bone biology are elucidated by the use of genetically modified mice or administration of therapeutic compounds.
Techniques, methods & infrastructure
Experimental arthritis models (human tumornecrosisfactor transgenic mice, Collagen-induced arthritis, serum transfer arthritis,…), in vivo assessment of clinical signs and gait analysis, organ preparation, blood collection, ex vivo µCT bone analysis of structural bone damage and systemic bone mass/morphology, histology (standard stainings, immunohistochemistry), quantification of regions and cells of interest on histological sections (Osteomeasure software), in vitro primary cell cultures and differentiation assays (osteoclastogenesis, osteoblasts, synovial fibroblast), bone resorption assays, standard molecular biology assays like RNA isolation and protein lysates from cells and organs; qPCR analysis, western blotting of signaling transduction pathways (MAPKinases, JAK/STAT, Syk,…).
Selected publications
Hayer S, Bauer G, Willburger M, Sinn K, Alasti F, Plasenzotti R, Shvets T, Niederreiter B, Aschauer C, Steiner G, Podesser BK, Smolen JS, Redlich K. Cartilage damage and bone erosion are more prominent determinants of functional impairment in longstanding experimental arthritis than synovial inflammation. DisModel Mech. 2016 Nov 1;9(11):1329-1338. Epub 2016 Sep 16. PubMed PMID: 27638666; PubMed Central PMCID: PMC5117225.
Hayer, S. et al., 2010. Interleukin 6 is not a crucial regulator in an animal model of tumour necrosis factor-mediated bilateral sacroiliitis. Annals of the Rheumatic Diseases, 69(7), pp.1403-1406. Available at: http://dx.doi.org/10.1136/ard.2010.129148.
Hayer, S. et al., 2009. PI3Kγ regulates cartilage damage in chronic inflammatory arthritis. The FASEB Journal, 23(12), pp.4288-4298. Available at: http://dx.doi.org/10.1096/fj.09-135160.
Hayer S, Redlich K, Korb A, Hermann S, Smolen J, Schett G. Tenosynovitis and osteoclast formation as the initial preclinical changes in a murine model of inflammatory arthritis. Arthritis Rheum. 2007 Jan;56(1):79-88. PubMed PMID:17195210.
Hayer S, Steiner G, Görtz B, Reiter E, Tohidast-Akrad M, Amling M, Hoffmann O, Redlich K, Zwerina J, Skriner K, Hilberg F, Wagner EF, Smolen JS, Schett G. CD44 is a determinant of inflammatory bone loss. J Exp Med. 2005 Mar 21;201(6):903-14. PubMed PMID: 15781582; PubMed Central PMCID: PMC2213110.