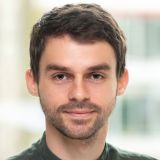 Keywords
Artificial Intelligence; Magnetic Resonance Imaging; Magnetic Resonance Spectroscopy; Ultrahigh field MRI
Research group(s)
High Field Magnetic Resonance Imaging and Spectroscopy
Research Area: musculoskeletal MR; neuroimaging; metabolic MR imaging and spectroscopy
Members:
Molecular Magnetic Resonance Imaging
Head: Wolfgang Bogner
Research Area: Development and clinical evaluation of Molecular Magnetic Resonance Imaging techniques at high (3T) and ultra-high (7T) human whole-body MR scanners
Members:
Research interests
I am interested in the application of deep Learning in MRI/MRSI. The acquisition of whole-brain MRSI data requires advanced acquisition techniques e.q. non-cartesian encoding or undersampling of kSpace, which in combination with multi-channel coils generates a large amount of data and yields prolonged reconstruction time. Prolonged acquisition time makes the MRSI/MRI methods vulnerable to the patient's motion, which decreases the quality of the measured data.
I believe that several challenges can be solved by applying the deep learning methods during the acquisition of raw data or in post-processing.