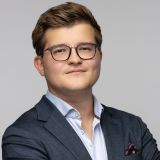 Keywords
Clinical Medicine; Translational Medical Research
Grants
A Novel Approach of Defining Therapeutic Targets in an Orphan Disease: Formalin-fixed paraffin-embedded Tumor Tissue and Ascites-derived Cell Pellets as a Promising Source for RNA-Profiling in Mucinous Ovarian Cancer (2021)
Source of Funding: City of Vienna, Vienna Fund for Innovative Interdisciplinary Cancer Research
Principal Investigator
Molecular Characterisation of Novel Therapeutic Targets in Mucinius Ovarian Cancer (2019)
Source of Funding: Medical Scientific Fund of the Mayor of the City of Vienna, Gynecologic Oncology
Coordinator of the collaborative project
Mucinous Ovarian Cancer in the Era of Personalized Medicine: Definition of Novel Biomarkers Predictive of Therapy Response (2019)
Source of Funding: City of Vienna, City of Vienna Jubilee Fund
Principal Investigator
Selected publications
Bartl, T. et al., 2021. The systemic immune-inflammation index (SII) is an independent prognostic parameter of survival in patients with invasive vulvar cancer. J Gynecol Oncol . 2021 Jan;32(1):e1. doi: 10.3802/jgo.2021.32.e1.
Bartl, T. et al. 2021. Overweight as a Favorable Clinical Biomarker for Checkpoint Inhibitor Therapy Response in Recurrent Gynecologic Cancer Patients. Biomolecules 2021, 11, 1700. doi: 10.3390/biom11111700.
Bartl, T. et al., 2021. Tumor Growth Rate Estimates Are Independently Predictive of Therapy Response and Survival in Recurrent High-Grade Serous Ovarian Cancer Patients. Cancers, 13(5), p.1076. doi: 10.3390/cancers13051076
Kreuzinger, C. et al., 2019. Patient-derived cell line models revealed therapeutic targets and molecular mechanisms underlying disease progression of high grade serous ovarian cancer. Cancer Letters, 459, pp.1–12. doi: 10.1016/j.canlet.2019.05.032.
Bartl T. et al, 2018. Predictive and Prognostic Implication of Bowel Resections During Primary Cytoreductive Surgery in Advanced Epithelial Ovarian Cancer. Int J Gynecol Cancer. 2018 Nov;28(9):1664-1671. doi: 10.1097/IGC.0000000000001369.