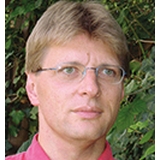 Keywords
Breast Neoplasms; Lipid Metabolism; Lipogenesis; Molecular Targeted Therapy; Ovarian Neoplasms; Receptor, Epidermal Growth Factor; Receptor, erbB-2; Receptor, erbB-3
Research group(s)
Cell Signaling and Metabolism Networks Program
Head: Thomas Grunt
Members:
Research interests
Using in vitro ovarian cancer models we are investigating mitogenic and anti-apoptotic ErbB/PI3K/AKT/mTOR signaling and lipogenic fatty acid synthase (FASN) pathways. These pathways are activated in most ovarian cancers and control crucial cell regulatory processes such as proliferation, growth, differentiation, apoptosis and energy balance. Clinical interest is currently focused on targeting molecular constituents that direct the activity of these pathways in order to prevent and/or treat malignant diseases. Recent data demonstrate that oncogenic signaling and metabolic regulation are closely interacting with each other in cancer cells. Both systems are harboring a host of promising anti-cancer drug targets. Our studies aim to elucidate the molecular mechanisms of interaction between signaling and metabolic systems and to demonstrate a potential benefit of combined anti-ErbB/PI3K/AKT/mTOR and anti-FASN targeted approaches for the treatment of ovarian cancer.
http://www.ccc.ac.at/wissenschaft-forschung/ccc-forschungscluster/cell-signalling-and-metabolism/
Techniques, methods & infrastructure
Various models for human ovarian carcinomas as well as immortalized premalignant and nonmalignant human precursor cells are used for in vitro analysis of the role of ErbB/PI3K/mTOR- and FASN-pathways during carcinogenesis and progression. A broad spectrum of biochemical, cell and molecular biological techniques are being used including cell culture, assays for cell growth- and apoptosis-detection, ELISA, immunofluorescence, proteomics, metabolomics, lipidomics, Western blotting, cDNA transfection, RNA interference, qPCR etc.
Selected publications
Veigel, D. et al., 2014. Fatty acid synthase is a metabolic marker of cell proliferation rather than malignancy in ovarian cancer and its precursor cells. Int. J. Cancer, 136(9), pp.2078-2090. Available at: http://dx.doi.org/10.1002/ijc.29261.
Grunt TW, Mariani GL. Novel approaches for molecular targeted therapy of breast cancer: interfering with PI3K/AKT/mTOR signaling. Curr Cancer Drug Targets. 2013 Feb;13(2):188-204.
Grunt, T.W., 2018. Interacting Cancer Machineries: Cell Signaling, Lipid Metabolism, and Epigenetics. Trends in Endocrinology & Metabolism, 29(2), pp.86-98. Available at: http://dx.doi.org/10.1016/j.tem.2017.11.003.
Brünner-Kubath, C. et al., 2010. The PI3 kinase/mTOR blocker NVP-BEZ235 overrides resistance against irreversible ErbB inhibitors in breast cancer cells. Breast Cancer Research and Treatment, 129(2), pp.387-400. Available at: http://dx.doi.org/10.1007/s10549-010-1232-1.
Offterdinger M, Schöfer C, Weipoltshammer K, Grunt TW. c-erbB-3: a nuclear protein in mammary epithelial cells. J Cell Biol. 2002 Jun 10;157(6):929-39.