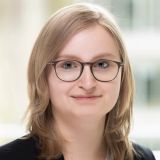 Keywords
Magnetic Resonance Spectroscopy; Multiple Sclerosis; Ultrahigh field MRI
Research group(s)
High Field Magnetic Resonance Imaging and Spectroscopy
Research Area: musculoskeletal MR; neuroimaging; metabolic MR imaging and spectroscopy
Members:
Molecular Magnetic Resonance Imaging
Head: Wolfgang Bogner
Research Area: Development and clinical evaluation of Molecular Magnetic Resonance Imaging techniques at high (3T) and ultra-high (7T) human whole-body MR scanners
Members:
Research interests
As part of the MR Spectroscopic Imaging (MRSI) group, my main research activity lies on ultra-high field 1H-MRSI as a tool for the assessment and quantification of brain metabolites in multiple sclerosis.
The main focus of my work lies on myo-Inositol as an imaging biomarker for multiple sclerosis. Myo-Inositol has been proposed as a marker for glial cell proliferation and increases in concentration have been reported in preliminary studies. To assess its' future diagnostic and prognostic potential, clinical studies in different patient cohorts as well as ex-vivo studies using 1H-MRSI at 7T are carried out.