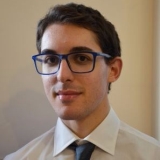 Keywords
Image Processing, Computer-Assisted; Image-Guided Biopsy; Radiographic Image Interpretation, Computer-Assisted; Surgical Procedures, Minimally Invasive
Research group(s)
QIMP group
Head: Thomas Beyer, PhD, MBA
Research Area: Quantitative, combined imaging (PET/CT, PET/MR, SPECT/CT); Supporting clinical adoption of fully integrated PET/MRI; Image-based phenotyping and texture analysis
Members:
Research interests
Computer vision and image processing
Artificial intelligence for fully-automatic medical imaging segmentation, classification and registration
Deep Learning
Selected publications
Shiyam Sundar, L.K. et al. (2020) 'Conditional Generative Adversarial Networks Aided Motion Correction of Dynamic 18F-FDG PET Brain Studies', Journal of Nuclear Medicine, 62(6), pp. 871–879. Available at: http://dx.doi.org/10.2967/jnumed.120.248856.
Iommi, D. et al. (2021) '3D ultrasound guided navigation system with hybrid image fusion', Scientific Reports, 11(1). Available at: http://dx.doi.org/10.1038/s41598-021-86848-1.
Iommi, D., Hummel, J. and Figl, M.L. (2020) 'Evaluation of 3D ultrasound for image guidance', PLOS ONE. Edited by M.C. McAlpine, 15(3), p. e0229441. Available at: http://dx.doi.org/10.1371/journal.pone.0229441.