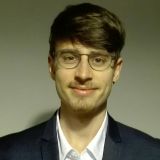 Keywords
Artificial Organs; Biomedical Engineering; Cardiovascular Diseases; Cardiovascular System; Heart Failure
Selected publications
Escher, A. et al., 2020. A Valveless Pulsatile Pump for Heart Failure with Preserved Ejection Fraction: Hemo- and Fluid Dynamic Feasibility. Annals of Biomedical Engineering, 48(6), pp.1821,
Granegger, M. et al., 2020. Blood trauma potential of the HeartWare Ventricular Assist Device in pediatric patients. The Journal of Thoracic and Cardiovascular Surgery, 159(4), pp.1519,
Strauch, C. et al., 2020. Experimental Hydraulic and Mechanical Characterisation of a Double-Flow Implantable Blood Pump. Volume 2: Fluid Mechanics; Multiphase Flows. Available at: http://dx.doi.org/10.1115/FEDSM2020-20248.
Vellguth, K. et al., 2020. Intraventricular flow features and cardiac mechano-energetics after mitral valve interventions – feasibility of an isolated heart model. Current Directions in Biomedical Engineering, 6(1). Available at: http://dx.doi.org/10.1515/cdbme-2020-0028.