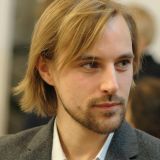 Keywords
Acute Coronary Syndrome; Coronary Artery Disease; Inflammation; Neutrophils
Research group(s)
Research group Irene Lang
Members:
Research interests
My main research focus is to understand plaque rupture and coronary thrombosis. We are especially interested in neutrophil inflammation in this scenario.
Techniques, methods & infrastructure
We are running elaborated techniques to measure neutrophil activation, NETs and NET degradation.
Selected publications
Mangold, A. et al., 2014. Coronary Neutrophil Extracellular Trap Burden and Deoxyribonuclease Activity in ST-Elevation Acute Coronary Syndrome Are Predictors of ST-Segment Resolution and Infarct SizeNovelty and Significance. Circulation Research, 116(7), pp.1182-1192. Available at: http://dx.doi.org/10.1161/CIRCRESAHA.116.304944.