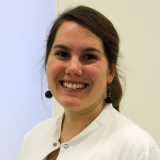 Keywords
Advance Care Planning; Anthropology, Medical; Cachexia; Dyspnea; Mental Health; Pain Management; Palliative Care; Patient Care; Personal Narratives; Qualitative Research; Social Behavior; Symptom Assessment; Vomiting; Vulnerable Populations
Research interests
My main research focus is to capture patients' perspectives on and experiences of illness. I aim to give patients a voice in medical research and to illuminate individual, social and cultural aspects of living with illness. My research focuses on individuals rather than diagnostic cases and seeks to understand feelings, thoughts, explanations, and activities of daily life by observing, questioning, and listening to the "real world" of the participants.
In addition, I am interested in symptom management of palliative care patients, end-of-life care and conversations, dignity therapy, and doctor-patient relationships.
I spent the year 2021 on educational leave and graduated with an M.Sc. in Narrative Medicine at Columbia University, NY. I am excited about improving the healthcare system by reuniting arts and medicine and I am looking forward to strenghtening Medical Humanities in German-speaking countries.
Techniques, methods & infrastructure
Qualitative methods, thematic analysis.
Selected publications
Kitta, A. et al., 2020. The silent transition from curative to palliative treatment: a qualitative study about cancer patients' perceptions of end-of-life discussions with oncologists. Supportive Care in Cancer. Available at: http://dx.doi.org/10.1007/s00520-020-05750-0.
Kitta, A. et al., 2019. Retrospective qualitative pilot study incorporating patients' personal life aspects on admission to palliative care. Wiener klinische Wochenschrift, 131(21-22), pp.576–581. Available at: http://dx.doi.org/10.1007/s00508-019-01552-5.
Kitta, Anna, 2012. Der Körper als Ort von Macht und Meinungen: Wie in Europa und Nordamerika der Umgang mit Krankheit und Gesundheit vom ExpertInnenwissen der Medizin beeinflusst wird. Austrian Studies in Social Anthropology, Journal 3/2012, 20p. URL: http://www.univie.ac.at/alumni.ksa/index.php/journale-2012/korper-als-ort-von-macht-und-meinungen.html
Masel, E.K. et al., 2020. Using medical comics to highlight medical humanities. Medical Education. Available at: http://dx.doi.org/10.1111/medu.14308.
Masel, E.K. et al., 2016. What Makes a Good Palliative Care Physician? A Qualitative Study about the Patient's Expectations and Needs when Being Admitted to a Palliative Care Unit T. Hosoda, ed. PLOS ONE, 11(7), p.e0158830. Available at: http://dx.doi.org/10.1371/journal.pone.0158830.