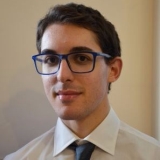 Keywords
Image Processing, Computer-Assisted; Image-Guided Biopsy; Surgical Procedures, Minimally Invasive
Research group(s)
QIMP group
Head: Thomas Beyer, PhD, MBA
Research Area: Quantitative, combined imaging (PET/CT, PET/MR, SPECT/CT); Supporting clinical adoption of fully integrated PET/MRI; Image-based phenotyping and texture analysis
Members:
Research interests
Our goal is the development of a new technology that supports physicians during prostate biopsies. The system enables fully automatic image fusion between pre-interventional hybrid Positron-Emission Tomography (PET) / Magnetic Resonance (MR) images and real-time transrectal ultrasound (TRUS). Without using additional ionizing radiation it will enhance visualization, increase biopsy hit rate and reduce patient discomfort by shortening the duration of the interventional procedure.
Selected publications
Gallo, Diego; Domanin, Maurizio; Iommi, David; Vergara, Christian; Morbiducci, Umberto (2018) Carotid restenosis risk via hemodynamic and morphometric analysis: a 5 year follow-up, In: Sixth national congressof bioengineering proceedings