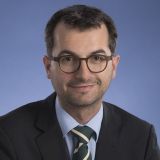 Keywords
Lung Transplantation; Metastasectomy; Tracheal Diseases
Research interests
Lung transplantation - Grading of primary graft function, use of extracorporeal membrane oxygenation, ex-vivo lung perfusion.
Laryngotracheal surgery - Outcome analysis, surgical techniques for cricotracheal stenosis, pediatric airway surgery.
Pulmonary metastasectomy - Finding prognostic factors, which could help to select patients.
Techniques, methods & infrastructure
I am heading a research group working on projects in the field of lung transplantation, airway surgery and pulmonary metastasectomy. We have a laboratory space at 8H with the oportunitiy to perform standard analysis (immunohistochemistry, ELISA, PCR, western blots, cell culture, FACS, etc).
Moreover, a modern animal facility is at our disposal, where we can perform large animal experiments.