All News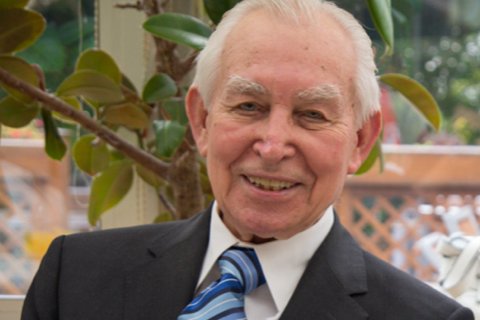 In memory of the Prof. Alfred Kratochwil, who has died at the age of 95, we take the liberty of publishing an obituary outlining his scientific achievements and his innovative and pioneering work.
After graduating as a medical doctor in 1953, Alfred Kratochwil worked at the Department of Obstetrics and Gynecology II in Vienna in the early 1960s. As early as 1964, he was tasked with performing studies on the location of the placenta in utero. The X-ray based examination methods used at that time were inadequate. Kratochwil was inspired by the work of a Viennese ophthalmologist, who applied ultrasound techniques to the eyeball, to apply this technique in gynaecology and obstetrics as well. Even in the early 1960s, Prof. Kratochwil was using the technique to examine pregnant women and noted a positive correlation between the identified position of the placenta and the actual situation found in the subsequent Caesarean delivery in more than 90% of cases. He thus provided proof of the applicability of this new technique in the field of gynaecology. Through his pioneering work on the use of ultrasound in pregnant women, Kratochwil was a leading figure in the use of ultrasound in gynaecology and obstetrics and his work made a significant contribution to research and development in the field. His unique position in the application of ultrasound technology also enabled him to apply ultrasound technology across surgical and internal medicine disciplines, resulting in the publication of a large number of scientific papers. He published more than 300 scientific papers in German. Kratochwil also edited authoritative textbooks, such as the textbook "Ultrasound Diagnostics in Obstetrics and Gynecology" published in 1986. Kratochwil's research work focussed on the use of ultrasound in gynaecology and obstetrics. He was a founding member of the Austrian Society of Ultrasound and also a founding member and president (1978-1981) of the European Society and World Society of Ultrasound in Medicine and Biology, and served as interim director of the Department of Gynecology and Obstetrics II in 1979. His close collaboration with the company Kretztechnik AG, where he worked in a research and consulting capacity, allowed him to keep his finger on the pulse of the latest technical developments. He was the first to be awarded the Ian Donald Gold Medal by the International Society of Ultrasound in Obstetrics and Gynecology in 1991, as an expression of appreciation for his life's scientific work. However, these few lines can never sufficiently reflect the true value of Prof. Dr. Alfred Kratochwil's lifetime achievements. A plethora of books and his intensive teaching activities, which continued long after his retirement, are testament to Prof. Dr. Alfred Kratochwil's lifelong commitment to research, teaching and to passing on his valuable knowledge.
With the passing of Prof. Kratochwil, we have lost one of the most important pioneers of ultrasound diagnostics. We will always remember his modest nature coupled with the highest level of scientific competence.
Dieter Bettelheim
Department of Obstetrics and Gynecology
---