All News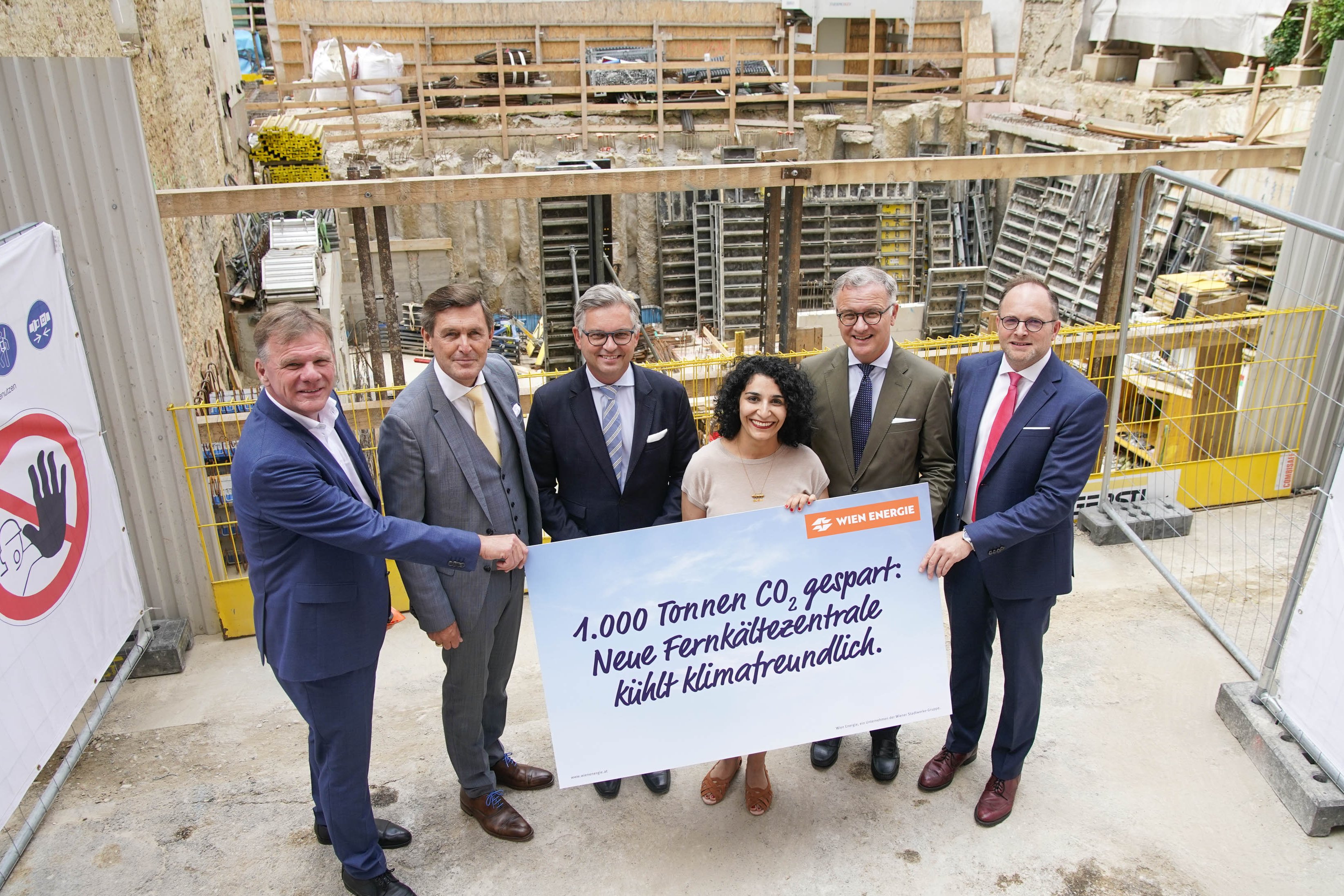 (Vienna, 3 July 2023) – Wien Energie is currently building a new district cooling centre at the new MedUni Campus Mariannengasse, which is being constructed by the Bundesimmobiliengesellschaft (BIG) and the Medical University of Vienna. The energy service provider is investing approximately 20 million euros and constructing the city's eighth high-performance district cooling centre here in Vienna-Alsergrund. "The demand for cooling is increasing strongly. However, energy consumption is to decrease and Vienna is to become climate-neutral by 2040. District cooling is an important building block, especially in densely built-up areas, to keep our city equally liveable in the future as temperatures rise due to climate change. It is the most efficient and environmentally friendly form of air conditioning in the city," says City Councillor for Economic Affairs Peter Hanke.
District cooling saves energy and CO2
"Climate protection is one of the central tasks of our generation. Our goals are ambitious - that's why we have to get started now. We can achieve our goals by focusing on sustainability, energy-efficient buildings and the use of district heating, cooling and geothermal energy. I congratulate the project operators: the new campus of the Medical University of Vienna will create a modern infrastructure for teachers and students," said Finance Minister Magnus Brunner. The largest consumer of district cooling will be the MedUni Campus itself, whose 35,000 m² of space will be cooled via the district cooling centre. The remaining cooling capacity will flow into the district cooling network, which Wien Energie is continuously expanding. This is an important step towards further expanding the district cooling network in the city centre. District cooling saves 70 percent energy and 50 percent CO2 compared to conventional air conditioning.
District cooling and lost heat ensure pleasant temperatures on hot summer days
The chillers are used to generate district cooling for room cooling. Electricity and district heating serve as operating power. This cold water is distributed throughout the building via a separate pipe network using special installation systems, and the heat is extracted from the rooms. In turn, this waste heat is further heated by means of a heat pump and used for the MedUni. A very efficient cycle: Wien Energie not only covers the entire heating requirements of MedUni in summer, but also a significant proportion of the heat needed in winter. In winter, the district cooling network can even be used as an energy source for heating the MedUni. If there is a particularly high demand for cooling, which means that more waste heat than is needed is generated in summer, there are additional re-coolers on the roof. A built-in ice reservoir will store the cold generated by the efficient machines during periods of low consumption, such as at night, and release it again at peak times. The overall efficiency of the system can thus be increased. The entire campus is supplied entirely with cooling, low-temperature heat and district heating by Wien Energie.
"The climate crisis does not spare Vienna! To ensure sustainable cooling, we are focusing on expanding district cooling and investing a total of 90 million euros by 2027. The district cooling centre at MedUni Campus Mariannengasse is an important milestone. With this modern and future-proof technology that turns heat into cold, we will be able to generate cold in Alsergrund very efficiently from 2025, thus saving a total of 1,000 tonnes of CO2 every year. That is equivalent to the CO2 binding power of 80,000 trees! Our plan is to use this new centre to interconnect the grid between the city centre and around Spittelau," explains Michael Strebl, Chairman of the Wien Energie Management Board.
"The district cooling centre is a pivotal part of the sustainable orientation of the MedUni Campus Mariannengasse. However, many other sustainability measures have been and are being implemented, such as a re-use project and a photovoltaic system. Particularly in the university sector, BIG has been implementing innovative energy concepts in terms of CO2 reduction and climate protection for years," says Hans-Peter Weiss, CEO of Bundesimmobiliengesellschaft, which is building the campus as the property owner and developer.
Cooling supply for critical infrastructure
The existing building with the address Mariannengasse 3 is being completely renovated and extended by an annex with the address Mariannengasse 5. In addition to demolishing the existing building at Mariannengasse 5, the construction measures on this property also required the gutting of the existing building at Mariannengasse 3. In the inner courtyard, which was used as a car park and parking garage until Wien Energie moved out, basement floors are currently being built in preparation for the district cooling project. The district cooling centre being built there will then supply critical infrastructure such as research facilities, hospitals and clinics in the region with sustainable cooling. It will also serve to expand the district cooling network in Alsergrund.
Ultramodern Campus for medical research and teaching
The ensemble of existing historical buildings, which are being preserved and renovated, and a new building will create a state-of-the-art campus for medical research and teaching in Vienna's 9th district. An area of around 35,000 m² of usable space is being created for 2,000 medical students and 750 MedUni Vienna staff. The new campus is located in the immediate vicinity of MedUni Vienna's existing sites and will bring together its pre-clinical institutes in one place
The MedUni Campus Mariannengasse will be divided into a general, teaching and research area. A public thoroughfare will be created across the campus from Spitalgasse towards Lazarettgasse (Vienna General Hospital). "With the realisation of the MedUni Campus Mariannengasse, we are achieving our goal of a spatially integrated preclinical campus with the AKH campus. The spatial proximity will further strengthen the personal cooperation between different disciplines and mean that findings from basic research can flow even more quickly into clinical application and the training of the younger generation", explains Markus Müller, Headmaster of MedUni Wien.
Key data: District Cooling Centre MedUni Campus Mariannengasse
Start of construction: summer 2022
Commissioning: planned for spring 2025
Three electric chillers, one heat pump and one absorption chiller with a total capacity of 17.7 megawatts
District cooling for around 350,000 square metres of cooling area
Investment costs: around 20 million euros
Key data: District Cooling Wien Energie
Total cooling capacity: 200 megawatts
Network length: approx. 28 kilometres
Buildings supplied: 190
Current number of cooling locations: 7 district cooling centres with grid connection, 15 decentralised solutions
---