All News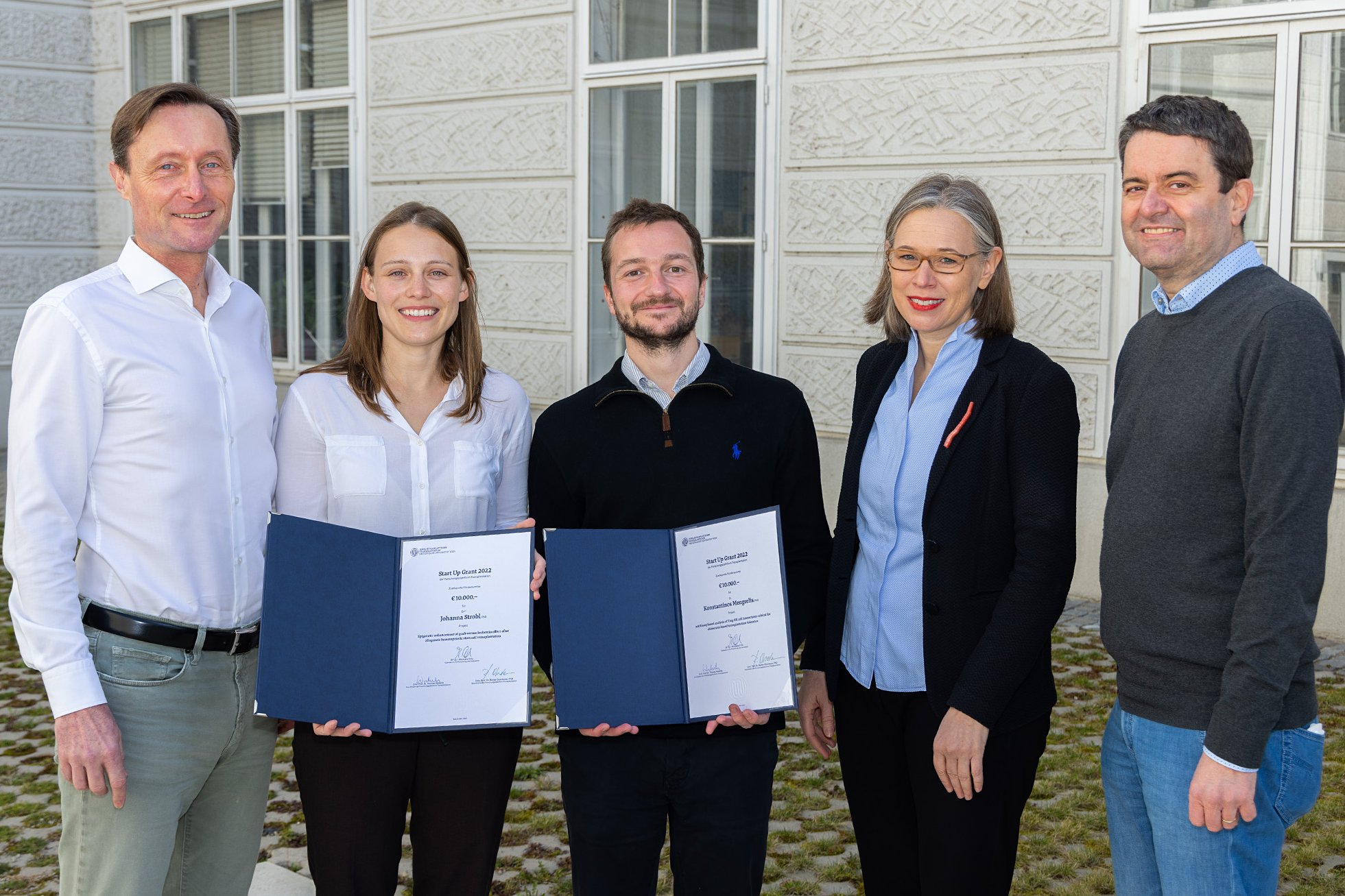 (Vienna, 18-03-2022) - The Medical University of Vienna's Transplantation Research Platform has awarded two start up grants to support young scientists in the field of transplant research. Johanna Strobl and Konstantinos Mengrelis will receive grants for their projects on stem cell transplantation and bone marrow infusion respectively.
The grants are designed to generate new research results that will serve as the basis for future acquisition of external funding. The awards were presented by Michaela Fritz, Vice Rector for Innovation and Research, and Rainer Oberbauer and Thomas Wekerle, coordinators of the Transplantation Research Platform.
About Johanna Strobl's project
Allogeneic haematopoietic stem cell transplantation is an important therapeutic option, especially for malignancies of the haematopoietic system. Its success is largely determined by preventing severe rejection reactions (graft-versus-host disease) while preserving donor T cells to displace leukaemic cells (graft-versus-leukaemia effect). Although epigenetic regulation of T cells has drastic effects on their development, stability and function and thus represents a potential means of tolerance induction, it has been poorly explored in the context of stem cell transplantation.
In her project, Johanna Strobl will therefore first investigate the epigenetic and transcriptional regulation of donor and recipient T cells in the course of stem cell transplantation. The results are expected to discover potential starting points for fine-tuning the immune response through epigenetic modelling. Subsequently, the effect of epigenetically active drugs, for example inhibitors of histone deacetylases, will be tested ex-vivo on isolated cells from patients after stem cell transplantation. Overall, Strobl hopes this project will reveal new supportive therapies to increase safety in stem cell transplantation.
About Johanna Strobl
Johanna Strobl is a registrar at the University Department of Dermatology and is currently on a Clinician Scientist Research Fellowship at the Sanger Institute in Cambridge .
In 2020, she completed her PhD studies in the field of immunology, during which she focused on resident skin T cells in allogeneic stem cell transplantation. As a post-doctoral fellow in the research group led by Georg Stary, she has since published on the circulation of lymphocytes in graft-versus-host disease and is researching immunological mechanisms of infectious skin diseases.
About Konstantinos Mengrelis' project
The project addresses critical issues of an ongoing prospective Phase I/IIa clinical trial being conducted at the Medical University of Vienna. In this study, Treg therapy is used in conjunction with donor bone marrow infusion and aIL-6R (tocilizumab) treatment to induce transient chimerism in recipients free of myelosuppression (EudraCT No 2018-003142-16). Konstantinos Mengrelis will use single-cell sequencing to study how autologous expanded Treg cells control NK cell responses, facilitating early bone marrow engraftment.
The long-term goal is to further investigate the fundamental interactions between Treg cells and NK cells to contribute to the development of novel therapeutic interventions after allogeneic BMT. This is intended to mitigate BMT protocols in reduced-intensity conditions in which myeloablation is unnecessary overall.
About Konstantinos Mengrelis
Konstantinos Mengrelis completed his MSc in Molecular Medicine at Imperial College London (2010) and his PhD at University College London (2016). He focused on the influence of "Hedgehog signalling" on the development of T cells. As a postdoctoral fellow, he continued his research at the same institute, where he investigated the role of Treg cells in transplantation and autoimmunity. He is currently working in the research group led by Thomas Wekerle in the Division of Transplantation of MedUni Vienna's Department of General Surgery.
---