All News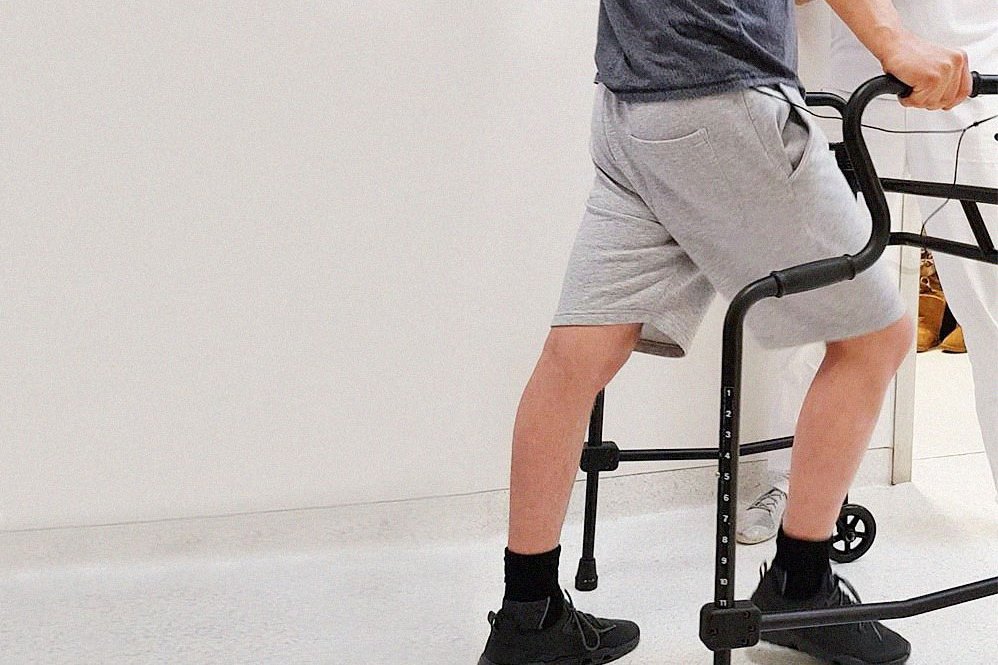 (Vienna, 11 April 2022) Up to 80% of people with a spinal cord injury suffer from spasticity. Until now, they had to choose between drugs with severe side effects or risky surgery. Mathematician and neuroscientist Ursula Hofstötter from the Medical University of Vienna developed a procedure that alleviates spasticity and also improves mobility - without any drugs or surgery.
In a spinal cord injury, the spinal cord and the nerve pathways running along it are damaged. This crucial part of the central nervous system controls various processes in the body. Therefore, in addition to paralysis of the limbs, motor, sensory as well as autonomic functions may also be impaired. Many sufferers struggle with spasticity, a painful rise in muscle tension or muscle spasms, and this further reduces already diminished voluntary motor function (consciously controlled movement).
Processing of nerve signals
The common treatment regimen includes physical and occupational therapy as well as drugs. "However, these drugs do not act selectively. That is to say, they not only inhibit spasticity, but at the same time suppress voluntary motor activity and often make people very tired," says Ursula Hofstötter of the Center for Medical Physics and Biomedical Engineering at the Medical University of Vienna. Another method that has proved effective is epidural spinal cord stimulation, in which specific nerve structures are stimulated by implanted electrodes. "As well as relieving pain, this method also has a beneficial effect on mobility. Patients regain the ability to move parts of their body they were previously unable to move," explains Hofstötter.
However: "It is rarely used because it involves two surgical procedures and high-level technical infrastructure." Given her specialist field, one might think that Hofstötter is a medical doctor but in fact she is originally a mathematician. Hofstötter recalls how she came to focus on medicine: "I became aware of neuromodulation techniques through a course taught by Professor Rattay at Vienna University of Technology. I am myself a sports enthusiast and have already had minor accidents where I thought: What would happen if I now lost the ability to walk? This question would not leave me. I wanted to bring my knowledge to bear for people who have suffered central nervous system injuries and to make a positive difference to their rehabilitation" - An ambition in which Hofstötter has succeeded.
Non-surgical stimulation of the spinal cord
Together with her colleague Karen Minassian, she has developed a technique which involves placing adhesive electrodes on the surface of the body and stimulating the same nerve structures that are stimulated by implanted electrodes. "This method is completely non-invasive. It also has the advantage that it can be offered by non-specialized rehab centres and clinics." Studies showed that even a single 30-minute stimulation session can successfully control spasticity for several hours and improve residual voluntary motor function. With continuous treatment, the effect can last as long as several days.
In search of a lasting effect
In her current project, Hofstötter used funding from the Austrian Science Fund FWF to focus specifically on the impact of stimulation on neuronal mechanisms in the spinal cord. "Our goal is to be able to provide individually optimized treatment results with it in future. There are many clinical studies worldwide but none of them explores the underlying spinal mechanisms. This is the strength of our research," explains the scientist and head of the research group "Neuronal Control of Movement and Neuromodulation" at the Medical University of Vienna. Ten subjects with a chronic spinal cord injury (one year post injury) and 20 subjects with a healthy spinal cord participated in the study.
Reflex arcs for neuronal processes
"The spinal cord consists of a complex nerve system. We investigated several of its mechanisms that are thought to play a role in the development of spasticity, both before and after application of non-invasive spinal cord stimulation." At this point it is necessary to understand the concept of agonist and antagonist: the ability to execute a movement depends on the balanced interaction of these opposing forces. For example, if you want to move a joint, certain muscles must be contracted while others stay relaxed. It is the same with the reflex arcs in the spinal cord. "We were able to identify several activity-inhibiting mechanisms in paraplegics that, after applying the treatment, regain a similar level of activity to that found in people with an intact spinal cord. In addition, we were able to identify an overactive mechanism that normalises again following stimulation." The data were collected up until the end of March.
Status of the paraplegics in the research
A high degree of interdisciplinary collaboration was required to conduct the study successfully. "There are elements of neurology, physiotherapy, electrical engineering, computer science, physics and, of course, maths," explained Hofstötter. The most important collaborators are the paraplegics themselves. "We do not regard them as patients but as valued equal partners. They provide us with so much knowledge and allow us to process it academically. We feel obliged to produce usable results." The first centres in Vienna are already using non-invasive spinal cord stimulation in a trial phase. If this trial proves the method to be an effective individual home therapy, it has huge potential to benefit many people in the future. Hofstötter comments: "There is a common misconception that once a condition becomes chronic, nothing more can be done. We do not agree with this at all. Spinal cord stimulation is a powerful tool."
About Ursula Hofstötter
Ursula Hofstötter is a professor at the Center for Medical Physics and Biomedical Engineering of the Medical University of Vienna. Here she leads the research group "Neural Control of Movement and Neuromodulation". Hofstötter obtained her PhD in technical mathematics from Vienna University of Technology in 2009. The project "Spinal cord stimulation: lasting effects on spasticity" (2018-2022) was funded by the Austrian Science Fund FWF to the tune of €191,000.
---