All News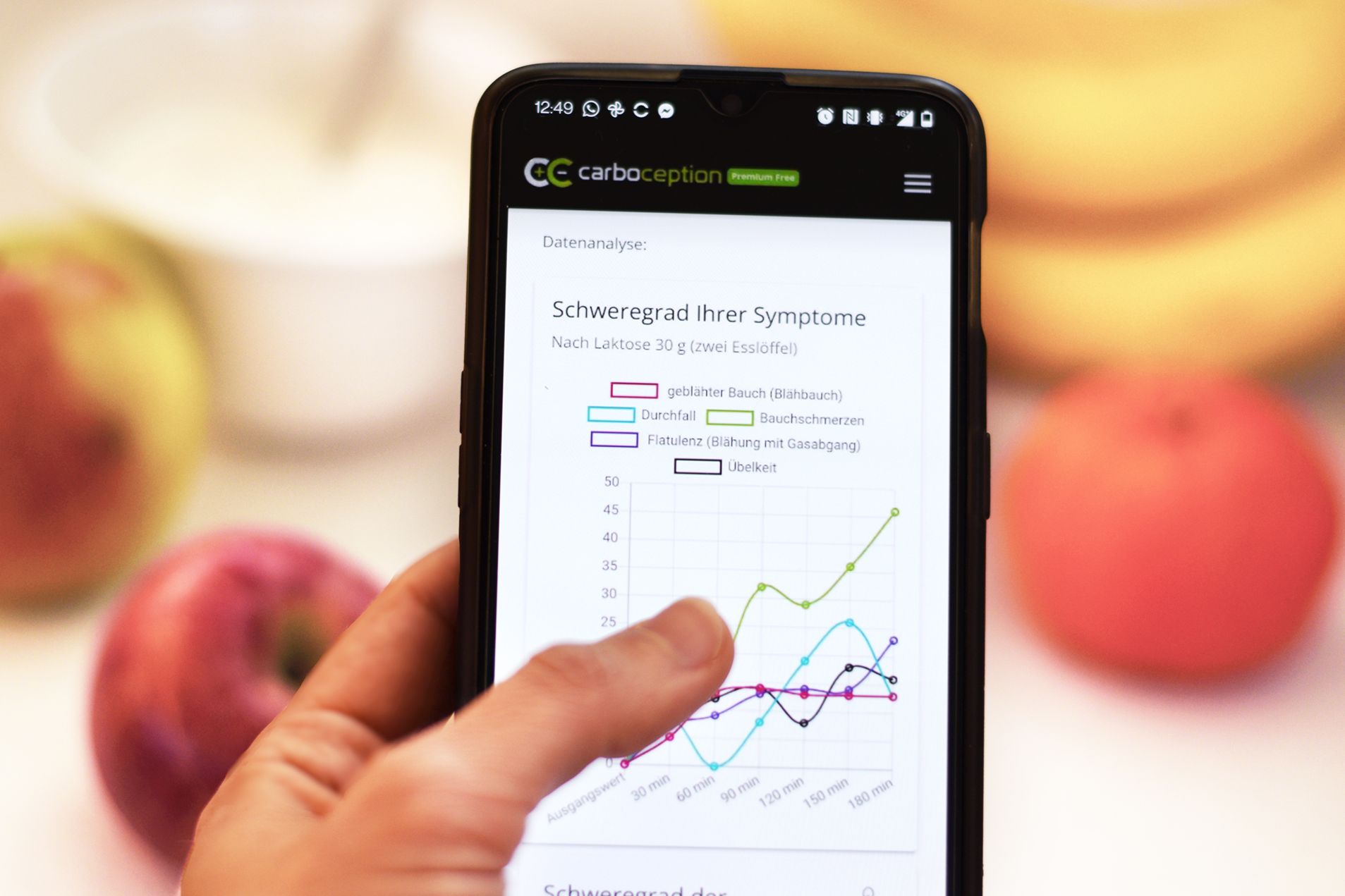 (Graz, Vienna, 08 February 2022) Many of us will be familiar with the scenario: abdominal pain, bloating, nausea and diarrhoea after eating - even if you are supposedly healthy or have not eaten anything strange or out of the ordinary. These symptoms could be due to a carbohydrate intolerance, where sufferers often go for years without discovering what triggers them. The new CarboCeption app, developed by researchers at the Medical Universities of Graz and Vienna, is designed to help sufferers discover the cause of their intolerances, identify triggering foods and determine how much of these foods they can tolerate. This digital medical device makes it easy to measure symptoms and subsequently identify intolerances, e.g. to lactose or fructose.
Intolerance: when abdominal pain, bloating and diarrhoea are an everyday occurrence
Carbohydrate intolerance manifests itself in the form of symptoms that occur after eating a particular food that may contain difficult-to-digest carbohydrates, such as lactose, fructose, birch sugar, or fibre. Abdominal pain, bloating, nausea and diarrhoea are important signals indicating food intolerance. These carbohydrates are not only found in dairy products, fruit or vegetables, which are commonly the first suspects that spring to mind, but also in pastries and baked goods such as bread, pasta and desserts. Identifying an intolerance requires repeated measurement of symptoms after eating or drinking the suspected trigger food. The test can be performed with different foods and sugars such as lactose or fructose and with different amounts of these test substances. This objective identification of an intolerance is critical for management with diet or enzyme supplements and is important in preventing nutritional deficiencies due to diarrhoea.
Many people avoid various suspect foods on a trial basis, without having clearly identified whether they are intolerant to them or not. This avoidance not only affects their quality-of-life but can also lead to nutritional deficiencies. This is where the CarboCeption app comes in. It was developed by Heinz Hammer from the Division of Gastroenterology and Hepatology at Med Uni Graz and Johann Hammer from MedUni Vienna based on questionnaires they developed at their respective universities and licensed out to CarboCeption. This medical device helps sufferers to measure or record symptoms and to identify intolerances, for example if a doctor has recommended testing for lactose or fructose intolerance based on to their symptoms.
Anytime, anywhere: App offers support
Analysis of a carbohydrate intolerance with the help of the CarboCeption app helps to identify the culprit foods, thus avoiding any unnecessary restriction of innocent foods that are not responsible for the symptoms. "The practical advantage of using the app is that it allows an intolerance to be detected at any time during a normal day, either at home or at work, without having to spend several hours in a laboratory or doctor's surgery to perform a breath test," says Heinz Hammer, explaining the added value of the digital assistant. CarboCeption can be used by health professionals as well as intolerance sufferers without any prior knowledge. In addition to helping medical staff track down the cause, the app also helps them properly implement the recommendations of the current European guidelines on the diagnosis of carbohydrate intolerances. Lay people in particular can benefit, because "the app is much more than a diagnostic tool; it provides valuable information on how to manage food and individual dietary recommendations tailored to the user," says the scientist.
Application: measurement of symptoms with reminder designed to unmask suspect foods
The app measures symptoms using a scientifically validated test developed at the Medical Universities of Graz and Vienna. "Our questionnaire guides app users* through the process of measuring their symptoms on a scale. These are measured repeatedly before and after ingestion of a test substance or test food," says Heinz Hammer, describing the application. Over a period of three hours, CarboCeption reminds users to assess or record their well-being or the onset of symptoms every 30 minutes. App users receive their results and recommendations for controlling symptoms and diet immediately after completing the test. "This not only gives sufferers a better understanding of the link between their diet and their well-being and regain a bit more control over their lives, but, first and foremost, it enables them to enjoy eating again," concludes the scientist.
The CarboCeption app is available as a free download for Apple and Android devices from the respective app stores. General information can be found at www.carboception.com and on Youtube.
---