All News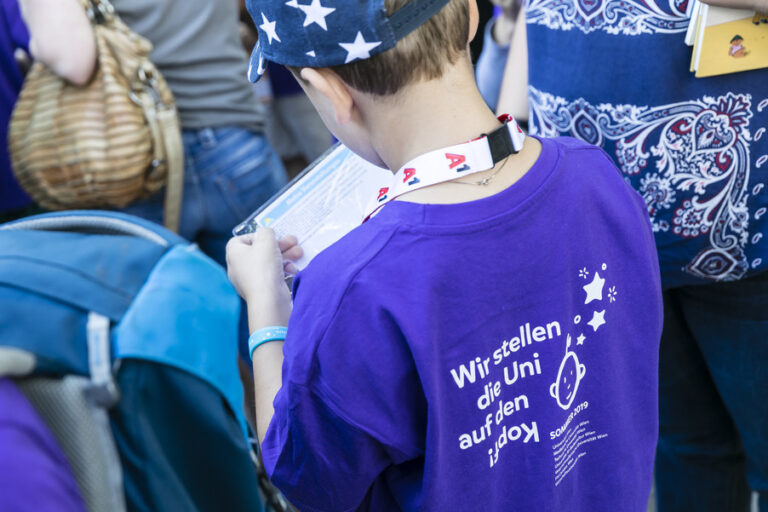 (Vienna, 10 June 2021) For what is already the 19th KinderuniVienna, the doors to university lecture theatres and seminar rooms will once again open a crack on 12 July 2021 to allow inquisitive children to go on journeys of discovery accompanied by scientists and experts. This year, however, this will not take place in large lectures but in small groups.
Every child between the ages of 7 and 12 can choose two classes from the offering of more than 200 classes that will take place at six locations: University of Vienna, Medical University of Vienna, Vienna University of Technology, University of Natural Resources and Applied Life Sciences, Vienna University of Veterinary Medicine and Vienna University of Economics and Business. From this week, the programme is online, and children are invited to browse through classes such as "Infected environment", "Our genes under the microscope", "Can cucumbers glow?", "Both cows and grass have a future", "Animal x-ray vision" or "Govern the State".
Enrolment starts online on 21 June – the programme is already available to read here.
Small groups instead of large lectures
Health always takes precedence! Therefore, in keeping with its theme of "health and happiness", this Kinderuni summer offers safe and varied options for experiencing the fun of research.
There will be small groups instead of large lectures. Even though it will not be possible to hold a Children's University graduation ceremony in the festival halls, all young students will still receive a certificate. Strict safety precautions will be observed when children are participating in person: student passes will be issued to everyone who has a negative COVID-19 test certificate.
Those who want to enjoy Kinderuni outdoors or on the sofa will be able to do so on two live-streamed afternoons. Starting at 16:00 hrs on the 14 and 21 July, the whole family will have the opportunity to see researchers in the digital space and interact with them via Chat. In exceptional cases, parents may be present.
And, if all that is not enough: as from 12 July, the full programme will be available round the clock on kinderuni.online. The lecturers from all participating universities and Vienna University of Applied Sciences have devised many new contributions for the course that are free from time or place contraints.
Timetable for the Kinderuni summer
Starting immediately: The programme for the small-group format KinderuniVienna is online
14 June: Registration starts for the small-group format KinderuniVienna
21 June: Enrolment starts for the small-group format KinderuniVienna
12 – 22 July: Small-group format KinderuniVienna live at the universities
14 & 21 July: Family lectures as Kinderuni livestream on kinderuni.at
12 July: New contributions on kinderuni.online
---