All News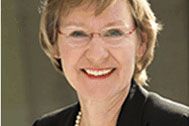 (Wien, 20-06-2015) Ingrid Pabinger-Fasching, stellvertretende Leiterin der klinischen Abteilung für Hämatologie und Hämostaseologie der MedUni Wien, übernahm mit Ende Mai 2016 die Funktion des Chair des Councils der International Society on Thrombosis and Haemostasis (ISTH).
Die ISTH ist die führende globale Gesellschaft für Thrombose und Hämostase mit weltweit mehr als 3.800 Mitgliedern und Sitz in North Carolina, USA. Die ISTH wurde 1954 als ICTH (C für Committee) gegründet und besteht in der heutigen Form seit 1969. Die ISTH trägt auf sechs Kontinenten dazu bei, dass Diagnose und Therapie von thrombotischen und Blutungs-Erkrankungen laufend verbessert werden bzw. durch Prophylaxe Thrombosen und Blutungen bereits im Vorfeld verhindert werden. Weiters sind die Mitglieder in der Grundlagenforschung aktiv und tragen zum Verständnis von Blutungs- und Thromboseerkrankungen bei. Ingrid Pabinger-Fasching wird das Leitungsgremium der ISTH in einer zweijährigen Funktionsperiode anführen.

Zur Person
Die gebürtige Linzerin Ingrid Pabinger-Fasching studierte in Wien Medizin und absolvierte von 1982 bis 1989 ihre Ausbildung zur Fachärztin für Innere Medizin am Wiener AKH. lm Jahr 1997 übernahm sie hier die Leitung der Hämostaseologie-Ambulanz. Im Jahr 1999 absolvierte sie das Zusatzfach Hämatologie und Onkologie.
lm Jahr 2004 wurde sie zur Universitätsprofessorin für Hämostaseologie an der MedUni Wien berufen. Im Jahr 2008 übernahm sie die stellvertretende Leitung der Klinischen Abteilung für Hämatologie und Hämostaseologie.
lhre Forschungsschwerpunkte sind die Behandlung von Blutgerinnungsstörungen, besonders der Hämophilie und Immunthrombopenie und die Erforschung von Thromboserisikofaktoren. Besonders intensiv beschäftigte sich ihre Forschungsgruppe in den letzten Jahren mit dem Zusammenhang zwischen Krebserkrankungen und Thrombosen in der Cancer and Thrombosis Studie (CATS).
Ingrid Pabinger-Fasching hat über 350 wissenschaftliche Arbeiten und eine Reihe von Buchbeiträgen veröffentlicht.
Von 2007 bis 2011 war Pabinger-Fasching Vorsitzende der Gesellschaft für Thrombose- und Hämostaseforschung (GTH), der Fachgesellschaft für den gesamten deutschsprachigen Raum. Sie war bereits in den Vorständen und Gremien zahlreicher wissenschaftlicher Fachgesellschaften tätig, wie z.B. in der European Hematology Association (EHA) und der American Society of Hematology (ASH) und hat viele wissenschaftliche Veranstaltungen organisiert, unter anderem als Präsidentin die 53. GTH-Jahrestagung im Jahr 2009 in Wien.
Pabinger-Fasching wird auch Vizepräsidentin des ISTH-Kongresses im Jahr 2017 in Berlin sein.
---