All News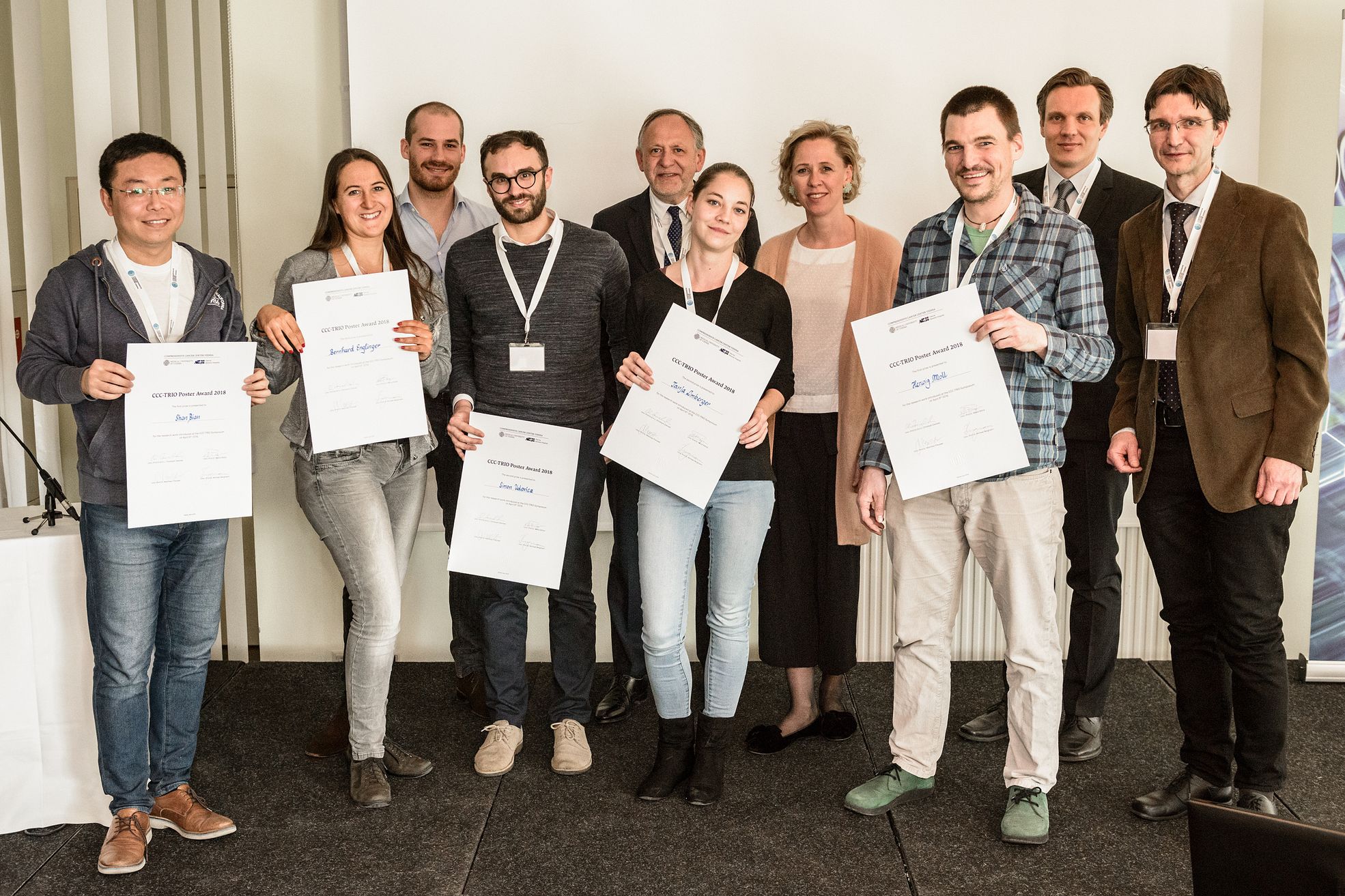 (Wien, 24-04-2018) Anlässlich des CCC-Poster Awards, der im Rahmen des CCC-TRIO Symposiums am 6./7. April 2018 vergeben wurde, verlieh das Comprehensive Cancer Center Vienna (CCC) insgesamt 10.000 Euro an sechs herausragende Forschungsarbeiten im Bereich der translationalen Krebsforschung. Die Preisgelder sind der onkologischen Krebsforschung gewidmet und sind zur Durchführung von weiteren Forschungsarbeiten bestimmt.
Insgesamt wurden 98 Abstracts für die Poster Session, die am ersten Abend des CCC-TRIO Symposiums stattfand, eingereicht. Aus dieser Fülle wurden 93 Poster ausgewählt und zur Präsentation zugelassen. Im Rahmen der Poster Session wählte eine dreiköpfige Jury sechs Arbeiten aus, die zum Abschluss des zweiten Tages ausgezeichnet wurden.


Die Gewinner

1. Preis, ex aequo
Shan Bian, IMBA, Gruppe Jürgen Knoblich
"Genetically engineered cerebral organoids model brain tumor formation "

Herwig Moll, MedUni Wien, Institut für Pharmakologie
"Afatinib restrains K-RAS driven lung tumorigenesis."

2. Preis, ex aequo
Tanja Limberger, MedUni Wien, Ludwig Boltzmann Institute Cancer Research
"Loss of Kmt2c methyltransferase activity contributes to prostate tumorigenesis in a mouse model of prostate cancer"

Simon Udovica, MedUni Wien, Universitätsklinik für Innere Medizin I, Abteilung für Onkologie
"Enzalutamide resistance in basal prostate cancer Organoids"

3. Preis, ex aequo
Bernhard Englinger, MedUni Wien, Institut für Krebsforschung, Gruppe Walter Berger
"Subcellular sequestration impairs the anticancer activity of the clinically-approved multikinase inhibitors Nintendanib and Ponatinib"

Petra Heffeter, MedUni Wien, Institut für Krebsforschung, Gruppe Petra Heffeter
"Improving carboplatin therapy: an albumin-targeted prodrug with highly superior activity in vivo"


Das CCC
Das Comprehensive Cancer Center (CCC) Wien der MedUni Wien und des AKH Wien vernetzt alle Berufsgruppen dieser beiden Institutionen, die KrebspatientInnen behandeln, Krebserkrankungen erforschen und in der Lehre bzw. der Ausbildung in diesem Bereich aktiv sind.
---