All News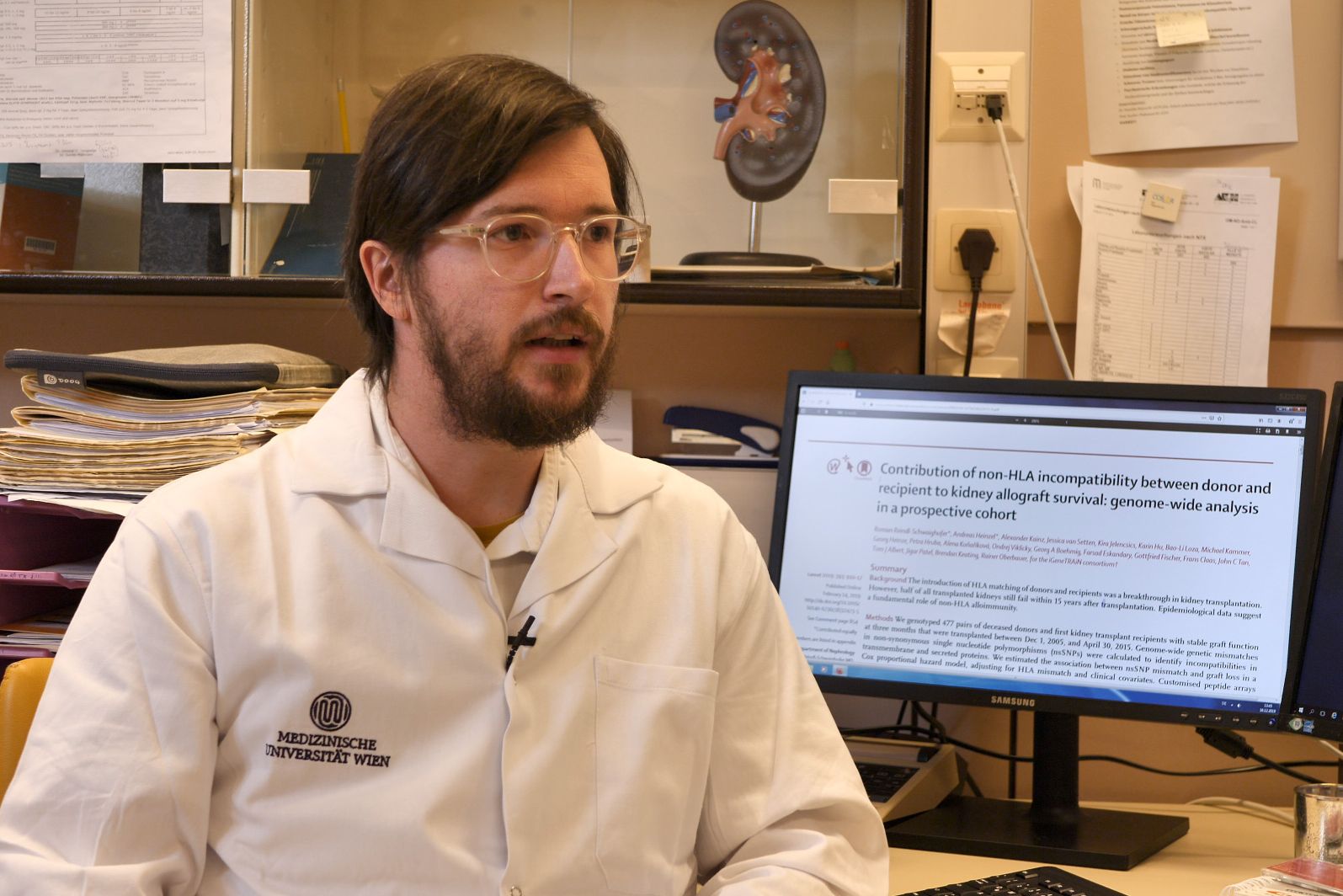 (Vienna, 11 December 2020) Roman Reindl-Schwaighofer, nephrologist at the Medical University of Vienna's Division of Nephrology and Dialysis, has been awarded the Ministry of Science Award of Excellence for his PhD thesis.
Roman Reindl-Schwaighofer impressed the jury with his study entitled "Genome-wide genetic incompatibility in kidney transplant donor and recipient pairs". The study was supervised by Rainer Oberbauer and has been published in The Lancet (DOI: 10.1016/S0140-6736(18)32473-5).
The Ministry of Education, Science and Research Award of Excellence has been awarded since 2008 to the 40 best doctoral graduates from the past academic year studying at universities of arts and sciences. The candidates are put forward by the universities.
The introduction of HLA matching of donors and recipients was a breakthrough in kidney transplantation. However, half of all transplanted kidneys still fail within 15 years after transplantation. Epidemiological data suggest a fundamental role of non-HLA alloimmunity. Roman Reindl-Schwaighofer discovered that genetic mismatch of non-HLA haplotypes coding for transmembrane or secreted proteins is associated with an increased risk of functional graft loss independently of HLA incompatibility. As in HLA alloimmunity, donor-specific alloantibodies can be identified against genotype derived non-HLA epitopes.
About Roman Reindl-Schwaighofer
Roman Reindl-Schwaighofer studied human medicine at the Medical University of Innsbruck from 2003 until 2010. On completing his studies, he started his training as an internist at the Elisabethen Hospital in Linz, where he played an active role in the working group of Rainer Oberbauer from 2012. In 2014, he moved to the Division of Nephrology and Dialysis at the Medical University of Vienna, where he also did a PhD in Applied Medical Science on the "Programme for Organfailure, -replacement and Transplantation". He completed his specialist training in internal medicine in 2017 and an additional qualification in nephrology in 2019.
---