All News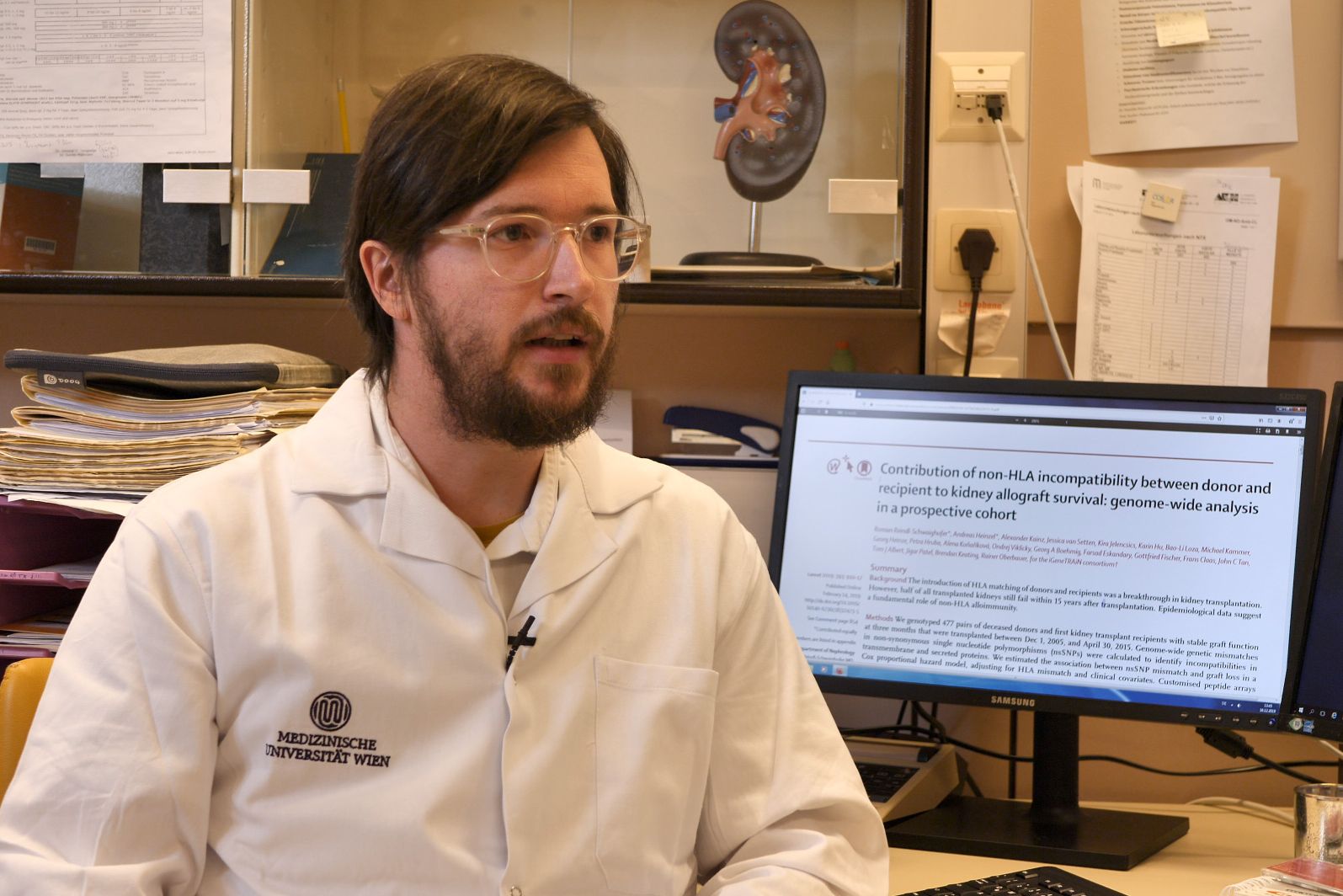 (Vienna, 11 December 2020) Roman Reindl-Schwaighofer, nephrologist at the Medical University of Vienna's Division of Nephrology and Dialysis, has been awarded the Ministry of Science Award of Excellence for his PhD thesis.
Roman Reindl-Schwaighofer überzeugte mit der Studie "Genome-wide genetic incompatibility in kidney transplant donor and recipient pairs". Die Studie entstand unter der Betreuung von Rainer Oberbauer und wurde im Top-Journal "The Lancet" (DOI: 10.1016/S0140-6736(18)32473-5) publiziert.
Der Award of Excellence des Bundesministeriums für Bildung, Wissenschaft und Forschung wird seit 2008 an die 40 besten Absolventinnen und Absolventen von Doktoratsstudien der wissenschaftlichen und künstlerischen Universitäten des vergangenen Studienjahres vergeben. Die Vorschläge dafür kommen von den Universitäten.
Die Einführung von "high-throughput" Technologien zur Genotypisierung ermöglicht die systematische Analyse von genomweiten Unterschieden zwischen Organspender und -empfänger. Im Rahmen dieser Arbeit wurden drei Studien durchgeführt: i) In der Hauptstudie zeigten die berechneten genomweiten Inkompatibilitäten in polymorphen Oberflächenstrukturen von (nicht-HLA-) Transmembran- und sezernierten Proteinen eine statistisch signifikante Assoziation mit dem Langzeitüberleben des Transplantats. Als prinzipiellem Nachweis einer gerichteten Immunantwort gegen die genetisch vorhergesagten Inkompatibilitäten konnten Antikörper nach der Transplantation nachgewiesen werden. ii) In einer anschließenden multizentrischen genomweiten Assoziationsstudie wurde gezeigt, dass einzelne genetische Varianten des Spenders oder Empfängers nicht prädiktiv für die Langzeitfunktion des Transplantats waren, wohingegen aber ein polygenetischer Risiko-Score für die Nierenfunktion nach einem Jahr prädiktiv war. iii) Eine kombinierte Analyse mehrerer Gene in Komplementregulationsproteinen ("Complotype") war sowohl mit mikrovaskulärer Entzündung im Transplantat bei Patienten mit durch Antikörper vermittelter Abstoßung als auch mit einem schlechteren Langzeittransplantatüberleben assoziiert. Insgesamt bestätigen diese Daten die Bedeutung von genomweiten genetischen Inkompatibilitäten vor allem für die Alloimmunantwort und die langfristige Funktion des Organs. Der Nachweis von Antikörpern gegen diese genetisch identifizierten Unterschiede erweitert das derzeitige Konzept der humoralen Alloimmunität von HLA hin zu nicht-HLA Antigenen. Keine einzelne genetische Variante im Spender oder Empfänger war mit der Transplantatfunktion assoziiert, was die vorrangige Bedeutung a) der immunologischen Inkompatibilität als wichtigsten Faktor für die Funktion der transplantierten Niere und b) die Notwendigkeit einer kombinierten Analyse mehrerer genetischer Varianten bei komplexen Prozessen, wie dem Transplantatüberleben, bestätigt.
Zur Person
Roman Reindl-Schwaighofer studierte von 2003 bis 2010 Humanmedizin an der Medizinischen Universität Innsbruck. Nach dem Studium begann er seine internistische Ausbildung am Krankenhaus der Elisabethen in Linz und war dort seit 2012 in der Arbeitsgruppe von Rainer Oberbauer aktiv. Im Jahr 2014 wechselte er an die Klinische Abteilung für Nephrologie und Dialyse der Medizinischen Universität Wien. Hier absolvierte er auch das Doktoratsstudium der Angewandten Medizinischen Wissenschaft im "Programme for Organfailure, Replacement and Transplantation". Im Jahr 2017 schloss er die Facharztausbildung in Innerer Medizin sowie 2019 das Zusatzfach für Nephrologie ab.
---