All News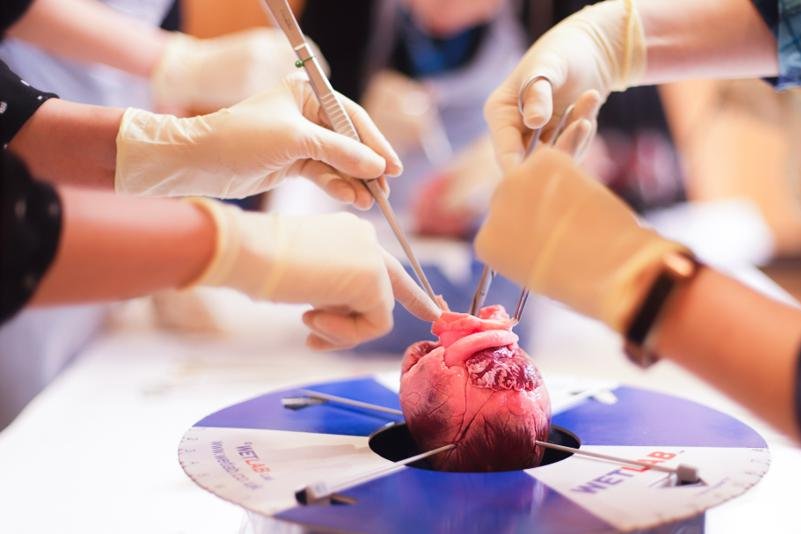 (Vienna, 12 May 2022) On the Medical Research Mile on the Long Night of Research on 20 May 2022, MedUni Vienna's focus will be on two major organs of the human body. The heart and brain can be explored not only via commentated operations livestreamed to a lecture theatre but also at numerous other stations. In other highlights, participants can gain insights into emergency care, delve into the fascinating immune system, and look over the shoulders of cancer researchers as they work.
This year, for the first time during the Long Night of Research, brain surgery will be livestreamed to the MedUni Vienna Lecture Center within University Hospital Vienna. Starting at 21:00, participants will be able to observe a microsurgical procedure to treat a brain aneurysm. Before the operation, they will be given information about the diagnosis, prognosis and treatment of aneurysms so that they are better able to understand what is happening. This year visitors can once again see what has now become a regular feature, a livestream of a heart operation from University Hospital Vienna (19:15 hrs). The surgical team is hooked-up live and will comment on the various steps of the procedure.
The inquisitive among us will also have the opportunity to implant a heart valve prosthesis on a model under professional guidance and to explore the anatomy of the brain up close. Advance registration is required for these two workshops: www.meduniwien.ac.at/LNF. Participation is free of charge - as at all other stations along MedUni Vienna's Medical Research Mile.
Emergencies, immune system, cancer
The "Long Night of Research 2022" will also focus on emergency medicine. This will include insights into the emergency management of premature babies immediately after birth with the help of VR glasses and high-tech dummies. This will also take place in MedUni Vienna's Lecture Center between 17:00 and 23:00 hrs.
In the South Garden of University Hospital Vienna, medical students will use simulation training to demonstrate the key aspects of providing emergency care in an ambulance. Visitors can actively participate either as a patient, a paramedic or an emergency doctor.
Visitors to the Institute of Immunology can learn about the most important types of immune cells in a fun and interactive way and can learn how scientists continue to decipher the immune system in a research laboratory. Researchers at the Center for Cancer Research will be offering guided tours around their laboratories to give visitors an insight into their work in the fight against cancer. The offering from MedUni Vienna's University Clinic of Dentistry will include state-of-the-art dental adjustments. The CeMM - Research Center for Molecular Medicine of the Austrian Academy of Sciences - will put human genes under the microscope and the Center of Excellence for High-Field MRI will be showing off the world's most powerful MRI scanner.
MedUni Vienna - Medical Research Mile on 20 May 2022 (17:00 to 23:00 hrs)
At nine locations in Vienna's ninth district, MedUni Vienna and its partners will be presenting around 100 activities relating to health research along the Medical Research Mile, as part of the Long Night of Research:
Center for Cancer Research (Borschkegasse 4a),
Institute of Immunology and Institute of Hygiene and Applied Immunology at Vienna Competence Center (Lazarettgasse 19),
Center of Excellence for High Field MRI (Lazarettgasse 14), (17:00 to 21:00 hrs)
MedUni Vienna Lecture Center within University Hospital Vienna (Währinger Gürtel 18-20, levels 7 and 8),
University Hospital Vienna's South Garden (Währinger Gürtel 18-20),
University Clinic of Dentistry (Sensengasse 2a)
CeMM, Research Center for Molecular Medicine (Spitalgasse 23),
Pathological-anatomical collection in the Narrenturm of the Natural History Museum (Spitalgasse 2)
St. Anna Children's Cancer Research (Zimmermannplatz 10)

Further information and detailed programme for the full MedUni Vienna offering: www.meduniwien.ac.at/lnf
---