All News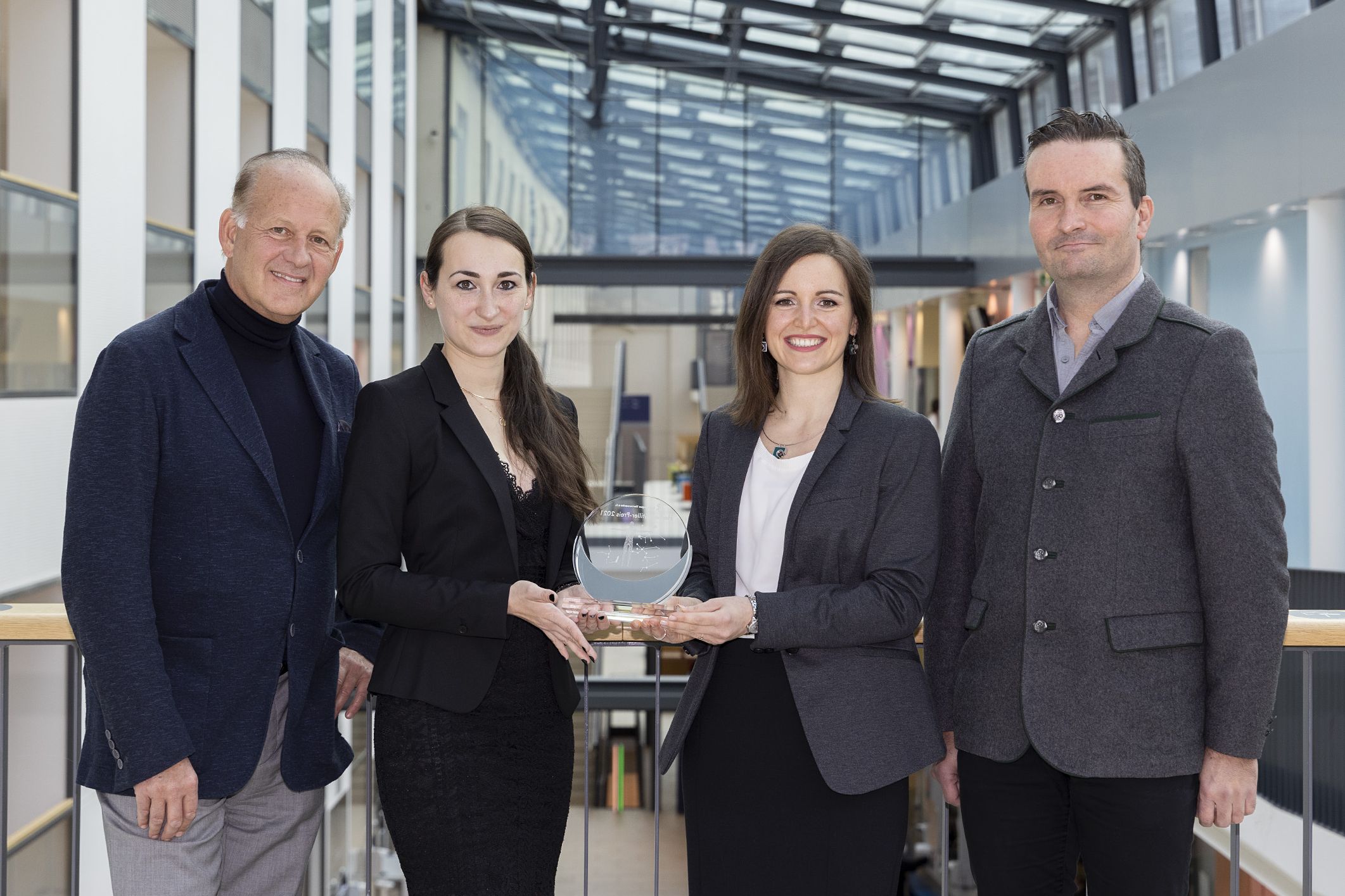 (Vienna, 09 November 2021) Klara Janjic, a postdoc at MedUni Vienna's Clinic of Dentistry has been awarded the Herbert Stiller Prize by the association Doctors Against Animal Experiments. The aim of the study by Janjic and her team is to develop a novel model of the human oral mucosa using 3D bioprinting, so as to bridge the gap between cell culture models and clinical studies.
The award was presented to Klara Janjic at a ceremony held at the University Clinic of Dentistry. After a welcoming address by the Head of the University Clinic of Dentistry, Andreas Moritz, the prize was presented by Dilyana Filipova and Andreas Ganz from Doctors Against Animal Experiments. Janjic and her team received the award for their research project aimed at developing a personalised model of the healthy and diseased human oral mucosa using 3D bioprinting.
The human oral mucosa is characterised by specific anatomical, histological and physiological properties that are not comparable with any other mammalian species. Even traditional, standardised cell culture models cannot recreate the exact physiological environment. Using bioprinting, however, it is possible to create three-dimensional structures that replicate human tissue. This technology has already been used to develop models for a wide variety of organs but there is still no suitable model for the human oral mucosa.
Individual models of the human oral mucosa
The aim of Janjic's study is to develop a three-dimensional 3D bioprinting model for in vitro testing that is similar in shape and structure to the tissue of human oral mucosa from both healthy and diseased individuals. The model will be used for testing various dental materials as well as investigating possible treatments for periodontitis and other oral diseases. The patient's own cells will be used for this purpose. This will allow direct determination of patients' individual local reactions to different materials and active agents.
Along with Klara Janjic, Wolfgang Boomgarden from Germany also received the Herbert Stiller Prize for computer-assisted expert systems that use artificial intelligence to predict the concentration of drug candidates in the blood based on their chemical structure.
The Herbert Stiller Prize for the Promotion of Animal-Free Research
The Herbert Stiller sponsorship prize is awarded every two years by the association Ärzte gegen Tierversuche (Doctors against Animal Experiments). The award is given to outstanding innovative scientific work that uses non-animal, human-based methods to research and treat human diseases and makes a significant contribution to the advancement of medicine. Potential candidates for the award are in vitro studies, but also clinical projects and epidemiological studies into the causes of diseases of civilisation.
The prize is named after a co-founder of the association, Herbert Stiller (1923-1984), a specialist in neurology, psychiatry and psychotherapy.
About Klara Janjic
Klara Janjic studied biomedicine and biotechnology at the University of Veterinary Medicine Vienna. She then completed a Master's degree at the University of Vienna with a focus on molecular medicine. In the course of her Master's thesis, she came to MedUni Vienna's Clinic of Dentistry Vienna, where she subsequently wrote her doctoral thesis as well.
Klara Janjic is currently a postdoc at the University Clinic of Dentistry Vienna, where she works with her clinical colleagues on various projects in the field of oral pathology.
---