All News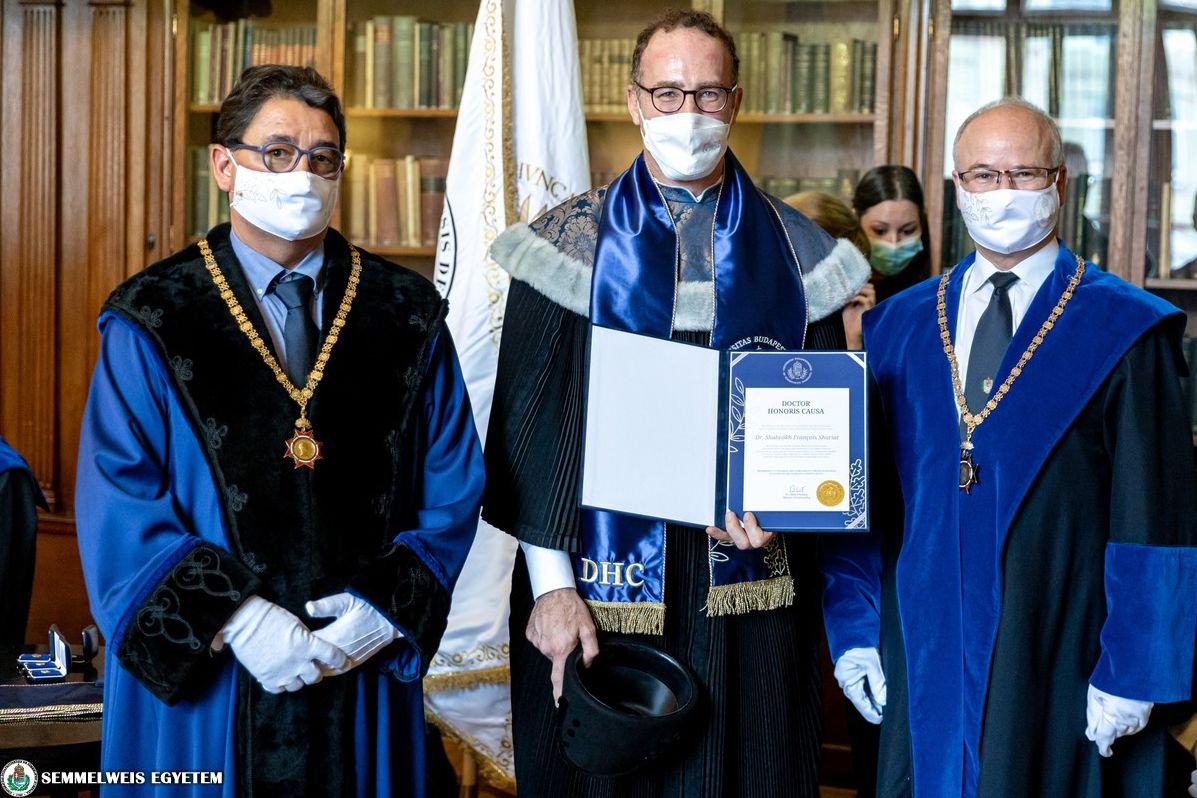 (Budapest/Wien, 25-11-2021) Shahrokh Shariat, Leiter der Universitätsklinik für Urologie der MedUni Wien und des AKH Wien, wurde von der Semmelweis-Universität in Budapest die Ehrendoktorwürde verliehen.
Shariat unterhält bereits seit 2013 aktive Kontakte im Zuge einer wissenschaftlichen und klinischen Zusammenarbeit mit der Klinik für Urologie der Semmelweis Universität, was zu 22 internationalen Publikationen und mehreren wissenschaftlichen und klinischen Austauschprogrammen führte.
Zur Person
Shahrokh Shariat kam als Kind aus Teheran (Iran) nach Wien, machte hier die Matura und studierte Chemie und Mathematik an der Eidgenössischen Polytechnischen Hochschule in Lausanne, wechselte aber dann für das Medizinstudium an die MedUni Wien. Nach der Promotion ging Shariat in die USA, absolvierte am Baylor College of Medicine in Houston, Texas, ein Research Fellowship, und an der University of Texas in Dallas die urologische Facharztausbildung. Am Memorial Sloan-Kettering Center in New York spezialisierte sich Shariat in urologischer Onkologie.
Von 2010 bis 2013 arbeitete er an der Weill Medical College of Cornell University in New York, wo er das Blasenkarzinomzentrum leitete.
Seit Juni 2013 leitet er die Universitätsklinik für Urologie der MedUni Wien im AKH Wien.
Shariat hat insgesamt über 1.600 peer-rewieved Publikationen verfasst und hält vier Patente, die auf Basis seiner Forschungsarbeiten auf dem Gebiet des Prostata- und Blasenkrebs entwickelt wurden. Sein Scopus h-Index (Hirsch-Faktor) beträgt 113. Im Jahr 2012 wurde er zum besten urologischen Onkologen in New York gewählt.
In den USA wurde er zweimal zu einem der führenden Urologen des Landes gekürt. Er ist der einzige, der mit den beiden wichtigsten Urologenpreisen ausgezeichnet wurde: EAU Crystal Matula Award 2014 und AUA Gold Cystoscope Award 2017.
Shariat hält Adjunct Professorships an der Cornell University in New York, der University of Texas in Dallas, der Karls Universität in Prag und der Ersten Staatlichen Medizinischen Setschenow-Universität Moskau. Im Jahr 2019 wurde er mit einem Ehrendoktorat der Carol Davila Universität in Bucharest und einer Ehrenprofessur an der Universität Jordanien (University of Jordan) in Amman ausgezeichnet.
---