All News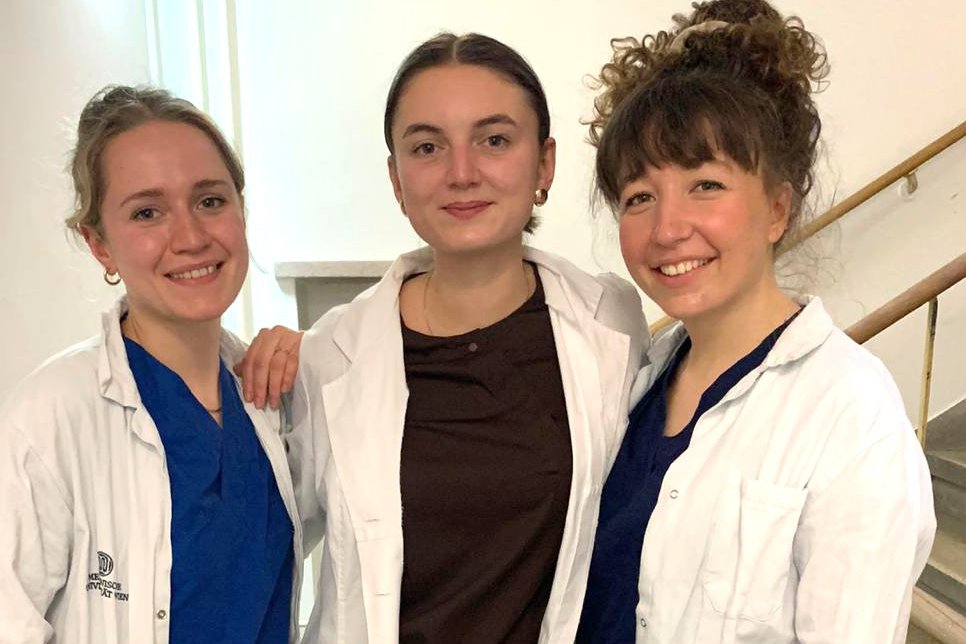 (Vienna, 17 June 2022) MedUni Vienna is offering support to Ukrainian students to help them gain a foothold in the university environment in Austria and to continue their studies despite the war raging in their homeland. Currently, nine students from Ukraine have been admitted into the study programme. They are supported by "buddies," students who accompany and guide their colleagues during their orientation phase.
Numerous initiatives on the part of the Austrian university community are currently supporting researchers and students from Ukraine. Nine medical students (seven in human medicine, two in dentistry) from Ukraine have been admitted to MedUni Vienna for a limited period of time as part of the "Ukraine" Freemover programme created specifically for this purpose. The basic requirement was an adequate command of German (language level C1). The students were interviewed by teachers to ascertain their existing level of knowledge, so that they could be allocated to the appropriate year of the course.
Volunteer "buddies" accompany their Ukrainian colleagues through their orientation phase. The "buddies" study in the same small group as the Ukrainian students and are therefore on hand to help them find their bearings in everyday university life and also on a personal level. Pairings are made by the Academic Department. "The fact that 120 students signed up for this following an appeal by the Student Union is testimony to a great willingness to help and solidarity on the part of our students. We are delighted that the reception and integration of Ukrainian students at MedUni Vienna has worked so well thanks to the enormous commitment of everyone involved," comments Anita Rieder, the Vice Rector responsible for teaching. As well as the University Management Office, the Academic Department, the International Office and MedUni Vienna's Student Union are also actively involved in implementing this offer.
At the end of the current semester, an evaluation will take place together with the teachers to assess the level of achievement, whether a student has been correctly placed and to discuss the next steps.
Other interested students who had applied to continue their studies at MedUni Vienna after interrupting their studies in Ukraine but who do not have the necessary German language skills, for example, currently have the opportunity to attend language courses or take supplementary scientific examinations as part of an Austrian Agency for Education and Internationalisation (ÖAD) pre-study programme. They will then have a chance to be admitted to the study programme in the upcoming winter semester.
These initiatives apply equally to Ukrainian nationals and third-country nationals with protected status under Ukrainian law, who have been displaced from Ukraine since 24 February 2022 due to the armed conflict and were previously studying at a Ukrainian university.
Information for students from Ukraine in accordance with the Ordinance on a Temporary Right of Residence for Displaced Persons from Ukraine - Displaced Persons Ordinance
---