All News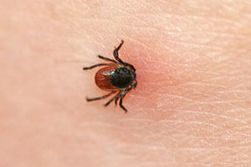 (Vienna, 27-07-2016) The very warm and equally as moist weather seen over the past few days has been ideal for ticks. "A lot of tick nymphs are now active", says the immunology and borrelia researcher Gerold Stanek from MedUni Vienna. Nymphs are ticks in the stage between larvae and adult ticks – they attack the most and therefore are the most dangerous. But what can we do about these tiny creatures when they attach themselves to us? "The best thing to is come straight to us and our experts at MedUni Vienna", says Hannes Stockinger, Head of the Institute for Hygiene and Applied Immunology and the Centre for Pathophysiology, Infectiology and Immunology at the MedUni Vienna. The ongoing study conducted by MedUni Vienna analyses the ticks themselves but also quickly examines and treats those affected.

Hikers and walkers are amongst those most affected, but also those who swim in the Auen and people who generally enjoy spending time outdoors. "Bring the ticks to us – we will examine them for various pathogens such as borrelia, rickettsia, anaplasma, and babesia, as well as rare and recently discovered pathogens. We will also take blood in order to determine if infection has taken place," explains the leader of the study Mateusz Markowicz from MedUni Vienna.

Not all tick bites lead to illness. If an infection is present, the affected person will receive the best possible treatment and further support as quickly as possible. The accompanying examinations and research will contribute to improved diagnosis and treatment in the future. Stockinger said, "On one hand, the affected person will feel well looked after, and one the other hand, research into illnesses transferred by ticks will be supported." The objective of the examinations is to find out which illnesses are generally present in ticks and to evaluate the risk of transmission to humans. "Furthermore, we hope to find out whether some infections can develop silently - without typical symptoms," said Markowicz.

Removing ticks yourself: do not panic!
Ticks which are embedded in the skin or ticks which have been removed can be brought in. "Do not panic if you have a tick," advised MedUni Vienna experts. "You can take care of it yourself and wait until evening before coming into our outpatient clinic," he said.

When removing ticks yourself, place a pair of tweezers as close to the skin as possible, grab the tick between the mouth of the tweezers and quickly pull it out. Those well-practised in removing ticks may also do this using their fingers.

Service: Tick Outpatient Facility
If you have fresh tick bites, call us to arrange an appointment at our outpatient facility in 1090 Vienna, Zimmermanplatz 1 on the first floor, and bring the 'fresh' ticks with you if possible. For queries regarding the ongoing study or any queries, call Dr Mateusz Markowicz (01-40 160 – 33 023) or Professor Gerold Stanek (01-40 160 – 33011).

Five Research Clusters at MedUni Vienna
A total of five research clusters have been established at MedUni Vienna. At MedUni Vienna, significant emphasis is placed on both fundamental and clinical research. The research clusters include medical imaging, cancer/oncology research, cardiovascular medicine, medical neuroscience, and immunology. The present paper falls within the remit of the cluster for immunology.
---