All News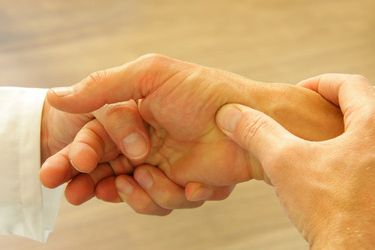 (Vienna, 06 July 2016) The latest trend in medicine is precision or personalized medicine and this also extends into the treatment of rheumatoid arthritis. This is one of the main findings of a review of the current status of the disease, its treatment and diagnosis, which MedUni Vienna researchers Josef Smolen and Daniel Aletaha were invited to write for the world's leading medical journal, "The Lancet". "This is indicative of our international status and shows that we at MedUni Vienna are clinically and scientifically aware of how rheumatoid arthritis "functions", and how to quickly diagnose the disease, evaluate it and provide optimum treatment," says Josef Smolen, rheumatologist and Head of MedUni Vienna's Department of Medicine III in Vienna General Hospital, expressing his pleasure at receiving such recognition.

Nowadays, personalized medicine for rheumatism means that it is possible to establish with much greater precision which treatment is the best and most rapidly effective for each individual patient and, equally, which treatments are not suitable. According to Smolen, who, together with brain researcher Hans Lassmann, is MedUni Vienna's most quoted scientist, the treatment of the future means starting to move away from the currently used injectable biologic drugs back to oral drug therapies, which have now been "tailored" to inhibit certain molecules within a cell.

In April 2016, Smolen's team demonstrated in a clinical Phase III study that the active agent baricitinib is substantially successful in treating rheumatoid arthritis. Baricitinib is an orally administered inhibitor of janus kinase 1 and 2. The main finding of the study: volunteers who received this active agent showed significant improvements in their condition. "In baricitinib, we have a new drug that works where the current medicines fall down," explains Smolen. "This means that we could very soon have a new drug, a new basis for treating rheumatoid arthritis." The approval decision is expected within the next few weeks. Smolen: "Realistically, we can expect to see it used in clinical practice as from 2017. But, once again, it will always be necessary to assess which patients this treatment would be more suitable for and which would fare better on biologics."


About rheumatoid arthritis
Rheumatoid arthritis is a chronic autoimmune disease that primarily affects women (approximately two thirds of those affected) and is usually diagnosed between the ages of 40 and 70. Approximately 1% of the world's population is affected by rheumatoid arthritis. The disease causes inflammation of the joints, resulting in swelling, overheating and functional impairments. If left untreated, it leads to gradual destruction of the joints and the neighboring bone, causing misalignment, malformation and permanent and progressive disability.
The Lancet review, which was co-authored with Iain McInnes from Glasgow, outlines the state-of-the-art on rheumatoid arthritis, in terms of etiology, pathogenesis, diagnosis, therapeutic strategies and future outlook.

MedUni Vienna as Europe's top rheumatism center
Vienna's Rheumatology Department is regarded as "the" leading center in Europe. For many years now, Josef Smolen has been the most quoted rheumatologist in the world and Daniel Aletaha is the most quoted next-generation rheumatologist.

Five research clusters at MedUni Vienna
In total, five research clusters have been established at MedUni Vienna. In these clusters, MedUni Vienna is increasingly focusing on fundamental and clinical research. The research clusters include medical imaging, cancer research/oncology, cardiovascular medicine, medical neurosciences and immunology. This paper falls within the remit of the Cluster for Immunology.
---