All News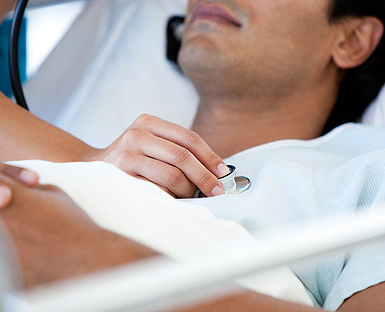 On Sunday (4 December), around 6,000 experts will assemble in Vienna at the start of the World Conference on Lung Cancer held by the International Association for the Study of Lung Cancer (IASLC). According to the figures, lung cancer is the most deadly malignant disease in the world. "Lung cancer is the most significant cancer worldwide. It is an avoidable tragedy," said Robert Pirker, Vienna lung cancer specialist (MedUni Vienna/Vienna General Hospital).

Pirker is the leading organiser of the conference, which runs until 7 December and covers all aspects of the disease – including prevention, early detection and treatment of patients at all stages of the disease. "Globally, around 1.8 million people develop lung cancer every year. 1.6 million people die of it. That represents 20% of all cancer deaths," said Pirker, speaking at a press conference. Along with pancreatic cancer and ovarian cancer, lung cancer is one of the most common types of cancer with the poorest prognosis.

The key strategy would be prevention, since 70% of cases worldwide and 85% in Europe are attributable to smoking. Nevertheless, according to the experts, the old category of lung cancer is increasingly being broken down into different forms with specific characteristics: for example those with quite specific genetic mutations as "drivers", which can also be very specifically treated, and those that are first and foremost attributable to smoking or environmental influences, such as asbestos etc.

However, early diagnosis is a huge problem. "The lung is a vast space, in which a tumour can spread without causing any pain," explained Helmut Prosch of the Department of Radiodiagnostics in Vienna. 80% of cases are therefore not detected until it is too late for a cure. However, 5 years ago, a large-scale study was published in the USA, showing that mortality could be reduced by 20% in heavy smokers aged over 55 (30 years of smoking one pack a day or ex-smokers with a long history of heavy smoking) by means of early detection, involving one low-dose CT SCAN per year. Prosch added: "The method is already being widely implemented in the USA. It is also going to be incorporated into the future German guidelines." These are due to be published at the beginning of next year.

This means that, in the foreseeable future, Austria, where around 24% of the population smoke, might also consider a screening programme for the early detection of lung cancer. Speaking on the subject, Wilfried Eberhardt, thoracic oncologist from Essen University Hospital said: "However, it is all about implementing high quality standards." Even so, suspected "coin lesions" are discovered in around 40% of those examined and, after quite stressful further investigations, 96% of these turn out to be benign. Lung cancer screening should therefore be restricted as far as possible to those with the highest risk.

Unlike breast cancer, where the only relevant parameters are gender and age, there are many possible selection criteria for lung cancer screening: smoking habits, gender, age, family history of the disease, other conditions that could predispose people to develop lung cancer, etc..

On the other hand, specialists have made huge advances in treatment. "We are curing more and more lung cancer patients," said Fred Hirsch, leading representative of the International Association of Lung Cancer Specialists. It is time to de-stigmatise this disease, which is widely regarded as being caused by the sufferers themselves. One example is locally advanced lung cancer, which 30% of patients have at the time of diagnosis. The cure rate is currently at around 20 – 45% and, if it is possible to combine surgery with intensive chemotherapy and radiotherapy, even as high as 40 – 45%. This would not have been possible a few years ago.

However, the conference is also concerned with prevention, placing a high priority on the fight against tobacco consumption. Even the President of Uruguay is participating as a prominent speaker. Tabare Vazquez, who is himself an oncologist, will be speaking about tobacco controls. His country has won an arbitration court case in Switzerland brought by the Philip Morris tobacco company against tobacco restrictions in the South American state.
---