All News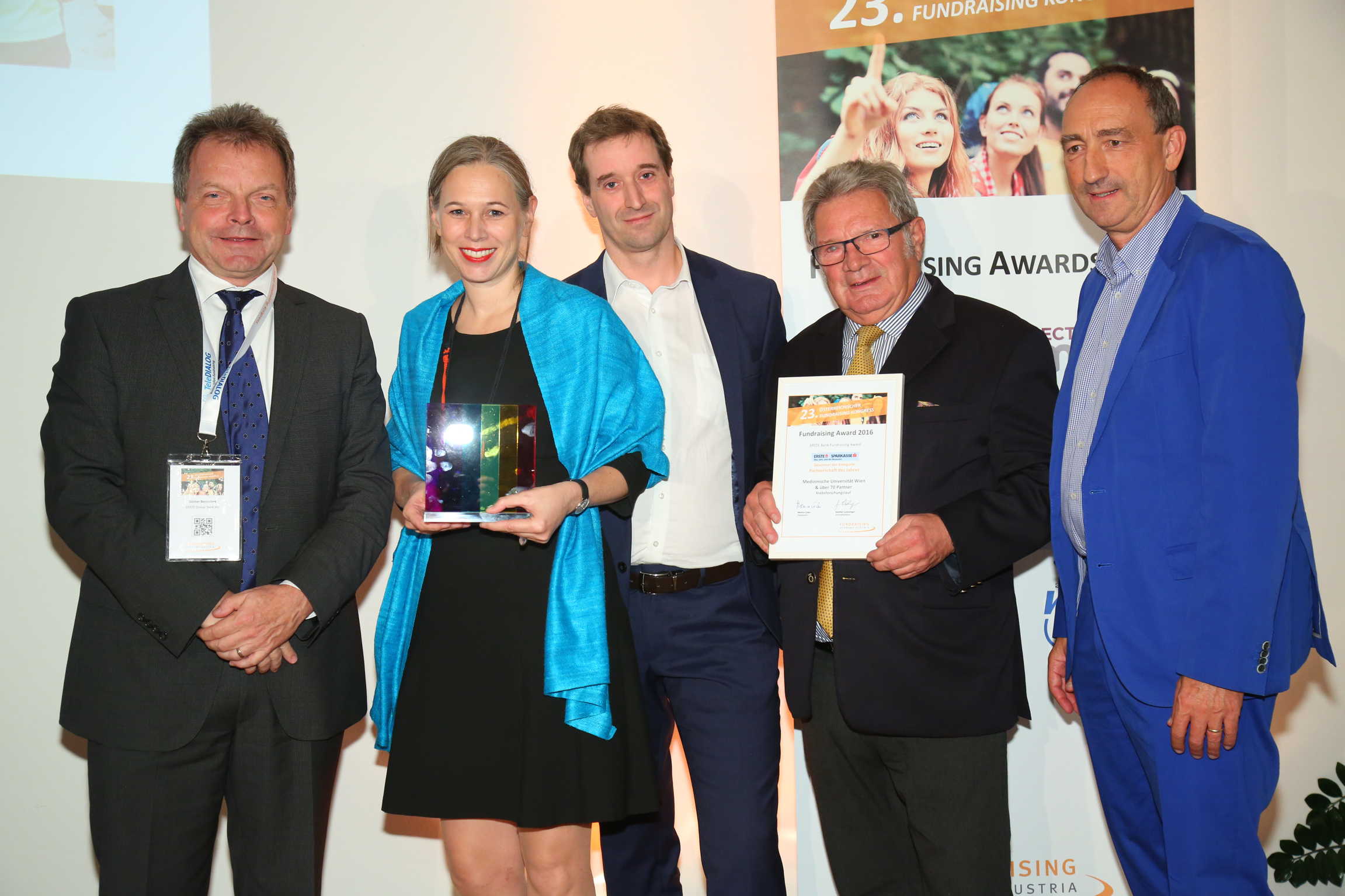 (Vienna, 11 October 2016) The Cancer Research Run organised by MedUni Vienna won an award at the Austrian Fundraising Congress in the "Partnership of the Year" category.
The Fundraising Awards presented by Fundraising Verband Austria (Austrian Fundraising Association) are intended to recognise outstanding fundraising achievements in several different categories. The category "Partnership of the Year" recognises successful collaborative efforts between non-profit organisations and commercial companies. The determining criteria are the financial success, innovation, diversity and durability of the campaigns.

The winners are:
Fundraiser of the Year: Franz Küberl
Partnership of the Year: Medical University of Vienna
Action of the Year: Volkshilfe Österreich für "Voices for Refugees"
Direct Mailing of the Year: "Care" in cooperation with Österreichische Post AG
Online-Campaign of the Year: Karl-Franzens-Universität Graz
Fundraising Spot of the Year: Rote Nasen Clowndoctors mit "Wir bringen Lachen ins Spital"
Innovation of the Year: Greenpeace CEE

Cancer Research Run
The Cancer Research Run has facilitated important research projects for ten years now. Over the past few years, the cancer research campaign (http://initiative-krebsforschung.meduniwien.ac.at/) has helped to launch 42 research projects, which have produced significant advances in the diagnosis and treatment of cancer. The Cancer Research Run has come to be the main fundraising activity of the cancer research initiative.

The first Cancer Research Run, which took place in 2007 with approximately 350 participants, barely brought in 16,000 euros, last year (2015) there were 2,000 participants, who, together with corporate partners and sponsors, brought in a total of 134,000 euros. The cancer research run 2016 last weekend had already 3000 participants.
This is made possible by the good working relationship between MedUni Vienna and the ASKÖ-WAT Vienna sports association and the University of Vienna, who have been supporting it since the very first run.
---