All News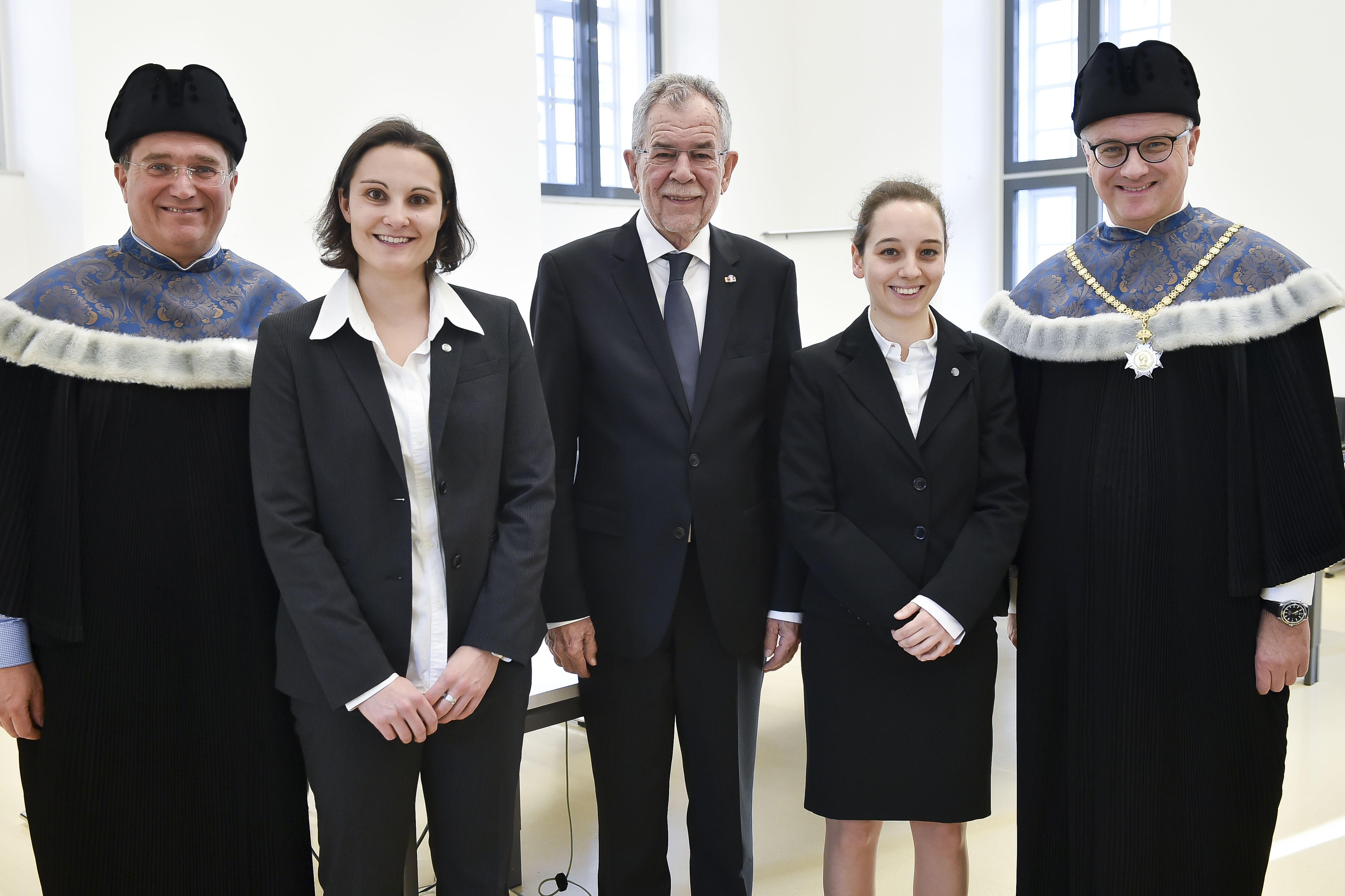 (Vienna, 19 December 2017) At an academic ceremony held today, Tuesday, in the Van Swieten Hall of the Medical University of Vienna, Austrian President Alexander Van der Bellen presented "Sub Auspiciis Praesidentis Rei Publicae" rings of honour to two MedUni Vienna graduates. Eliana Montanari and Barbara Mair completed their PhD courses at the Medical University of Vienna with distinction. MedUni Vienna Rector Markus Müller also offered his personal congratulations.
Promotio sub auspiciis Praesidentis rei publicae (Latin for promotion under the auspices of the Federal President), also abbreviated to "Sub Auspiciis Promotion", is a particular Austrian form of the distinction for outstanding academic performance. It is the highest possible distinction for academic achievements in Austria. The qualification criteria for Promotion sub auspiciis praesidentis are completing the senior level of secondary school with distinction, gaining a school leaving certificate with distinction, completing one's relevant studies with distinction (including all exam subjects of the diploma exams or modules in the Baccalaureate or Bachelor's degree and in the Masters degree and achieving a "Very Good" mark for one's diploma or Master's thesis) and a "Very Good" mark for the dissertation and completing all doctoral vivas and/or the final exam with a "Very Good" mark.

Eliana Montanari
was born in 1991, graduated from secondary school in Vienna in 2009 and studied human medicine at the Medical University of Vienna. She completed her PhD in Vascular Biology in July 2016. Her PhD thesis entitled "Regulation and effects of interleukin-33 in human cells of the vessel wall" was supervised by Johann Wojta (Department of Medicine II). She is currently doing her specialist medical training at the Department of Obstetrics and Gynecology of MedUni Vienna/Vienna General Hospital. She has already received several awards, such as the Dr. Hans L. Geisenhofer Foundation's Research Prize 2017, the Honorary Prize of the Federal Ministry for Science, Research and Economic Affairs 2015 (State prize for the best diploma grade at MedUni Vienna in 2015), the Best Poster Award at the 15th International Meeting on "Integrated Management of Acute and Chronic Cardiovascular Disease" 2014, Innsbruck, as well as performance scholarships from the Medical University of Vienna.

Barbara Mair
was born in Linz in 1986, where she graduated from the Bischöfliches Gymnasium Petrinum. After completing her Master's degree in Molecular Biology (2010) and in parallel a Bachelor's degree in Spanish (until 2011) at the University of Vienna, she completed her PhD in the working group of Sebastian Nijman at the CeMM (Austrian Academy of Sciences Research Center for Molecular Medicine) and at the Ludwig Institute for Cancer Research & Target Discovery of Oxford University, finishing it in 2017. Her PhD thesis is entitled: "Functional Genomics and Drug Mechanism­of-Action in Breast Cancer and Beyond". Since May 2017, she has been working as a Postdoctoral Fellow in the working groups of Jason Moffat, Brenda Andrews and Charles Boone at the Terrence Donnelly Centre for Cellular and Biomolecular Research of the University of Toronto. She has already received several awards, such as an EACR Award (2014), a DOC PhD Fellowship from the Austrian Academy of Sciences (2013) and performance scholarships from the University of Vienna (2008, 2009, 2010 and 2011).
---