All News
(Vienna, 01 December 2017) Clemens von Pirquet Prize for Simona Saluzzo – Karl Landsteiner Prize for Monika Linke – the Austrian Society for Allergology and Immunology (ÖGAI) has awarded prestigious prizes to two MedUni Vienna researchers for their research work. The prizes were presented at the Society's annual conference in Vienna City Hall on 24 November 2017.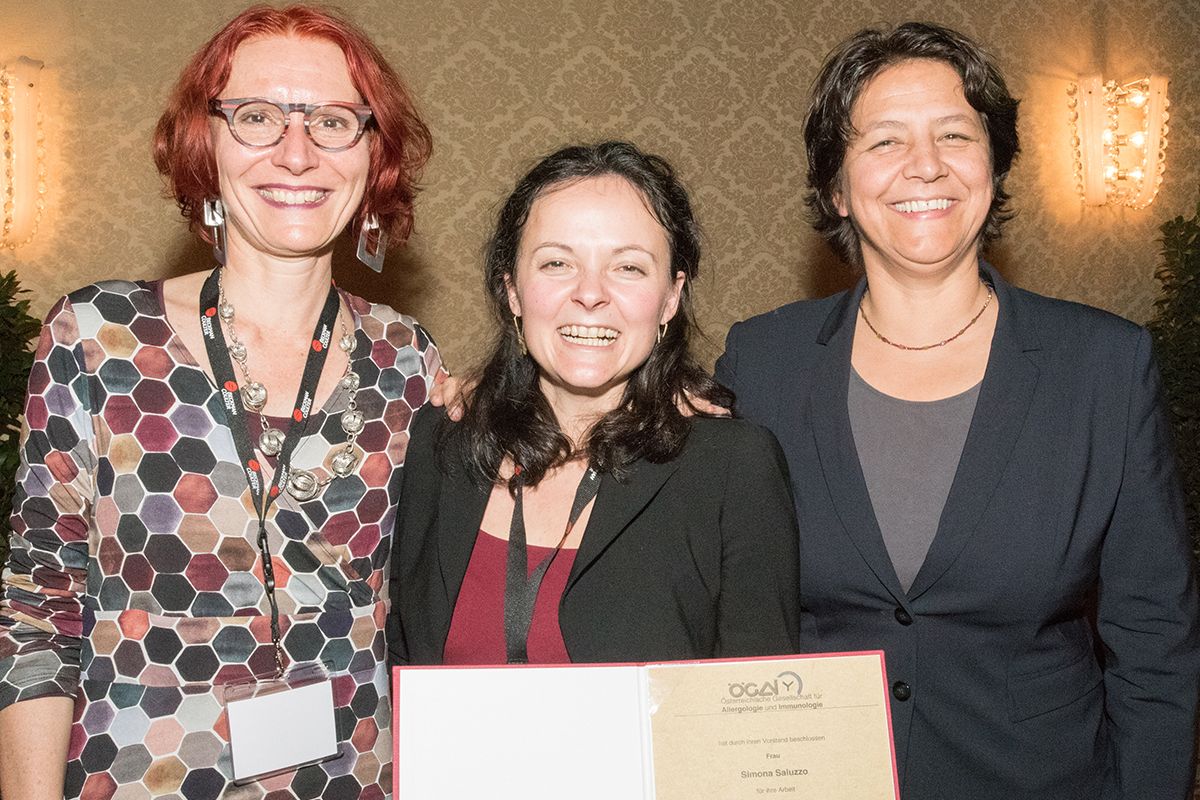 Simona Saluzzo from the Department of Dermatology was awarded the Clemens von Pirquet Prize for her publication entitled "First-breath-induced type 2 pathways shape the lung immune environment". The prize-winning work was published in Cell Reports in February 2017 and arose from her PhD studies at MedUni Vienna and CeMM (Center for Molecular Medicine of the Austrian Academy of Sciences) under the supervision of Sylvia Knapp, Head of the research laboratory for infection biology at the Department of Medicine I and principal investigator in the CeMM.

About Simona Saluzzo
Simona Saluzzo was born in Italy in 1985 and graduated in human medicine in Turin, Italy. Her interest in immunology and infectious diseases led her to apply for a place on the Cell Communication in Health and Disease (CCHD) PhD programme at MedUni Vienna under the supervision of Prof. Dr. Sylvia Knapp. As part of her FWS-funded PhD, she spent a seven-month placement abroad at the Laboratory of Molecular Biology, Medical Research Council, University of Cambridge (UK) under the supervision of Prof. Dr. Andrew McKenzie. Since March 2016 she has been training as a consultant in dermatology and venerology at the Department of Dermatology.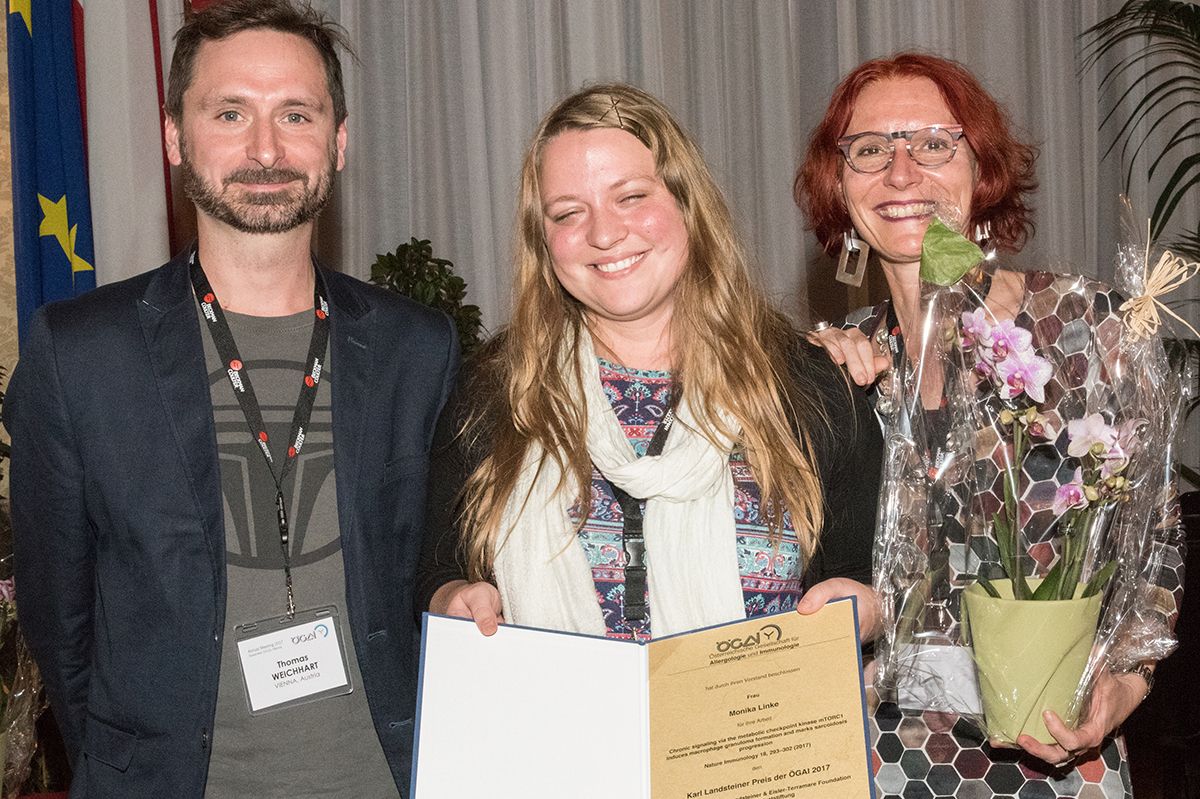 Monika Linke from the Institute of Medical Genetics was awarded the Karl Landsteiner Prize for outstanding work in the field of basic immunology research for her paper "Chronic signaling via the metabolic checkpoint kinase mTORC1 induces macrophage granuloma formation and marks sarcoidosis progression", which has been published in Nature Immunology (16 January 2017; doi:10.1038/ni.3655).

About Monika Linke
Monika Linke was born in Lower Austria in 1986 and gained her Masters in microbiology and immunobiology with distinction at the University of Vienna in 2014. Since 2014, Monika Linke has been pursuing the Immunology PhD programme at MedUni Vienna.
Monika Linke has worked as a researcher in Thomas Weichhart's working group on "regulation of the innate immune system by metabolic sensor mTOR" since 2012. Her research work has already won prizes at international conferences and Monika Linke has had a DOC scholarship from the Austrian Academy of Sciences since the beginning of 2016.


Prizes were also awarded for the best poster presentations and oral presentations and prize-winners included the following MedUni Vienna staff:

Best Oral Presentations
Sabine Flicker (Inst. of Pathophysiology and Allergy Research): Antibody conjugates bi-specific for ICAM1 and allergens prevent epithelial penetration of allergens and rhinovirus infection
Bernhard Kratzer (Inst. of Immunology): Prophylactic treatment with virus-like nanoparticles (VNP) containing shielded allergen prevents sensitization in a mouse model of mugwort allergy
Sherezade Moñino Romero (Dept. of Pediatrics and Adolescent Medicine) The soluble isoform of human FcepsilonRI is an endogenous inhibitor of IgE-mediated responses
Ursula Smole (Inst. of Immunology): The acute phase protein serum amyloid A1 (SAA1) is a key component of innate type 2 immunity in allergic diseases

Best Poster Presentations
Gabriela Sánchez Acosta (Inst. of Pathophysiology and Allergy Research): Induction of food-specific blocking antibodies for birch pollen-related food allergies
Liisa Andersen (Inst. of Immunology): MAZR Modulates Regulatory T Cell Development and Function
Vanessa Mayr (Inst. of Pathophysiology and Allergy Research): Establishment of a new expression platform for plant allergens
Felicitas Mungenast (Inst. of Pathophysiology and Allergy Research): Ectopic lymphoid structures in cancer tissues: dissecting complexity and functionality
Johanna Strobl (Dept. of Dermatology): A subset of long-lived memory T cells resides in the skin of hematopoietic stem cell recipients
---