All News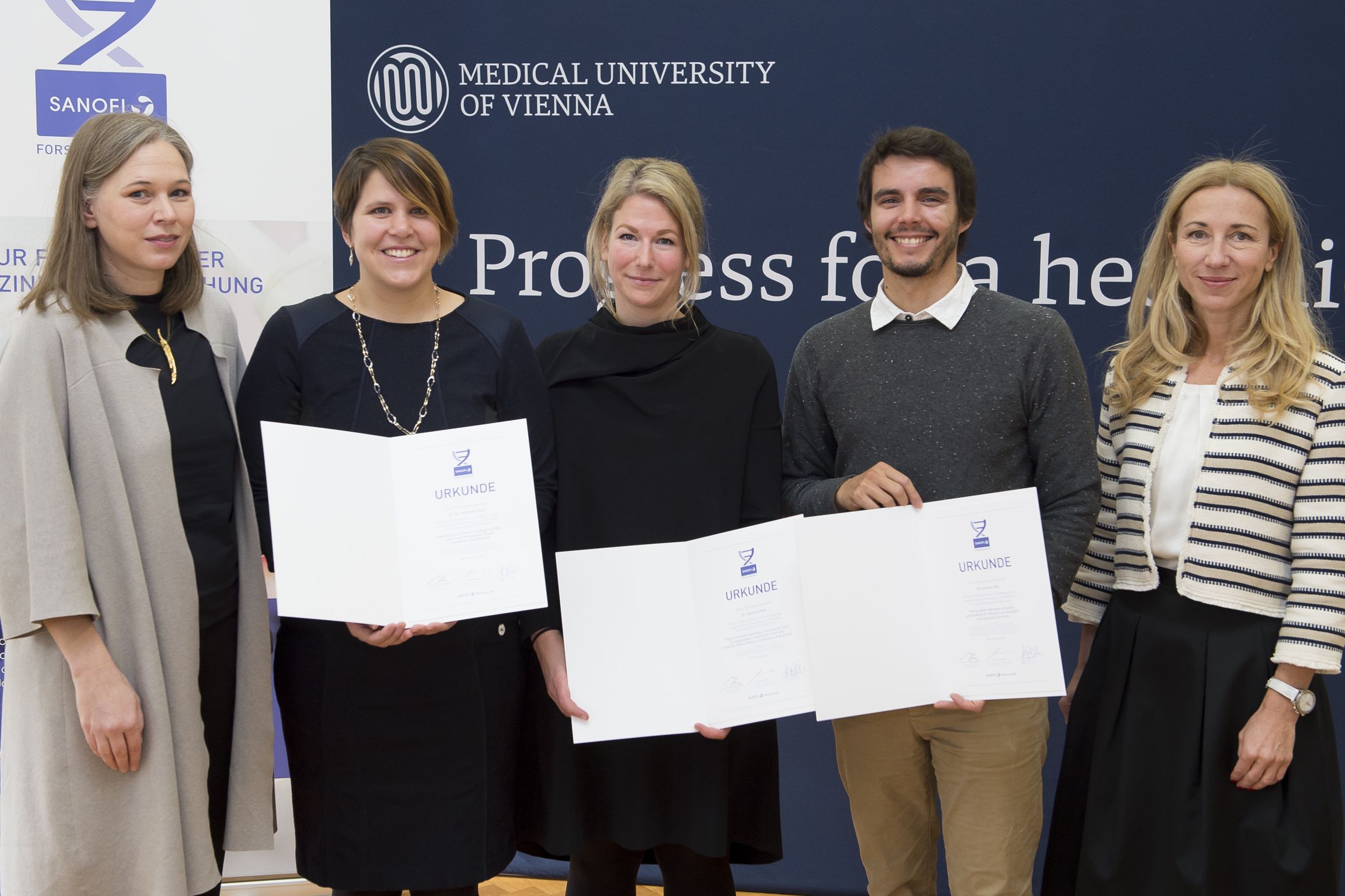 (Vienna, 20 November 2017) At a ceremony held yesterday in the Van Swieten Hall at MedUni Vienna, this year's Sanofi Foundation prizes for funding medical research in Austria were presented to a total of 12 researchers. Three of the awards went to researchers from MedUni Vienna: Barbara Peter, Rui Martins and Katharina Blatt.
This award is given every year to young scientists from the medical universities of Vienna, Graz, Salzburg and Innsbruck. Every year these universities receive a sizeable grant for rewarding outstanding research work.
"These papers are examples of the huge potential of present-day research. We are witnessing a truly exciting time. I am convinced that in a few decades from now we will be saying that the start of the 21st century saw many groundbreaking developments in medicine," said the host of this year's prize-giving ceremony, Rector Markus Müller.

Barbara Peter – "Target interaction profiling of midostaurin and its metabolites in neoplastic mast cells predicts distinct effects on activation and growth"
Systemic mastocytosis is a form of haematopoietic neoplasia, characterised by the expansion and accumulation of neoplastic mast cells in several internal organs. Clinically relevant organ damage is observed in aggressive forms of the disease, such as aggressive systemic mastocytosis or mast cell leukaemia, while mediator-induced symptoms manifest in every category of systemic mastocytosis. A D816V-mutated variant of the KIT gene, which is also responsible for resistance to tyrosine kinase inhibitors such as imatinib, can be detected in most patients. The multi-kinase inhibitor midostaurin (PKC412) is a tyrosine kinase inhibitor that is active against KIT D816V mutation and is already in clinical testing. However, so far, no long-lasting haematological remission has been observed, even though mast cell mediator-induced symptoms were significantly improved in these patients. The study investigated the effects of midostaurin and its metabolites on the proliferation and survival of neoplastic mast cells, as well as the effects on anti-IgE induced histamine release. The study showed that all three substances inhibit anti-IgE induced histamine release, both in basophils and in mast cells. Furthermore, midostaurin and CGP62221 showed a growth-inhibiting effect in neoplastic mast cells and also an inhibiting effect on phosphorylation of KIT D816V in HMC-1.2 cells, while CGP52421 exhibited no significant effects. In chemical proteomic profiling and drug-competition experiments, it was found that midostaurin interacts with KIT, but also with additional kinase targets. The important downstream regulator FES was recognised by midostaurin and CGP62221 in HMC-1.2 cells, while SYK, which represents an important IgE-receptor downstream target, was de-phosphorylated by both metabolites. In summary, we were able to show that the midostaurin metabolite CGP52421 inhibits anti-IgE induced histamine release but is only a week inhibitor of neoplastic mast cell proliferation. This finding could also have clinical implications and would explain why mediator-induced symptoms improve in patients treated with midostaurin, even though these patients are no longer in complete haematological remission.

Rui Martins – "Heme drives hemolysis-induced susceptibility to infection via disruption of phagocyte functions"
Heme drives haemolysis-induced susceptibility to infection via disruption of phagocyte functions
Extensive intravascular haemolysis characterises the clinical picture of sepsis, malaria and haemoglobin diseases such as sickle cell anaemia or α und β thalassaemia and thus poses a serious threat of patients worldwide. The destruction of red blood cells following haemolysis results in the release of their intracellular content into the bloodstream and to a raised blood plasma concentration of haemoglobin, with subsequent release of the heme unit. An excess of haemoglobin in the blood plasma can quickly exceed the protective absorption capacity of heme-binding plasma proteins such as hemopexin, causing free heme to interact with other plasma components and cell surface proteins [or uncontrolled?] . It has long been observed that haematological diseases or haemolysis itself make patients susceptible to deadly bacterial infections. Since heme is a ferrous protoporphyrin IX ring, this was attributed to the greater availability of iron for bacterial metabolism.

The researchers hypothesised that heme release is responsible for the increased susceptibility to infection following haemolysis, heme having a negative effect on the immune response to bacteria due to its potential role as an iron source. We demonstrated that an excessive heme concentration in the bloodstream, such as occurs following haemolysis, is sufficient to cause fulminant bacteraemia and death from sepsis. Surprisingly, this effect is dependent upon the absorption of heme iron by bacteria, because a similar excess of free iron did not replicate the effects of heme. Furthermore, even an infection with bacteria that do not use heme as an iron source, was aggravated by an excess of heme. Instead, heme was found to be a potential inhibitor of phagocytosis and cell migration, thereby effectively suppressing the immune response to bacteria and creating a favourable environment for bacterial growth. This effect is brought about by disrupting the dynamics of the actin cytoskeleton, in that heme associates with DOCK8 and causes hyperactivation of downstream target proteins, Cdc42 and mDIA2, which leads to dramatic changes in cell shape and the inability to respond adequately to bacteria.

In addition, we demonstrated that chinine can completely suppress the harmful effects of heme on phagocytosis and can restore the antibacterial response of phagocytic cells in vivo and in vitro. This conceptual proof highlights the potential of immuno-adjuvant therapeutic approaches to by-pass failing conventional therapies (e.g. antibiotics).

Katharina Blatt – "Identification of the Ki-1 antigen (CD30) as a novel therapeutic target in systemic mastocytosis"
The Ki-1 antigen (CD30) is an established therapeutic target in patients with Hodgkin's lymphoma and anaplastic large cell lymphoma. It was recently shown that CD30 is expressed in the cytoplasm of neoplastic mast cells in advanced systemic mastocytosis. In this work we investigated whether CD30 is also expressed on the surface of neoplastic mast cells and whether this surface antigen can serve as a therapeutic target in mastocytosis. With the aid of flow cytometry, we were able to show that the CD30 antigen is expressed on the surface of neoplastic mast cells, namely in 3 out of 25 patients (12%) with indolent systemic mastocytosis, in 4 out of 7 patients (57%) with aggressive systemic mastocytosis and in 4 out of 7 patients (57%) with mast cell leukaemia. Furthermore, CD30 was detected on the surface of the RAS-transformed human mast cell line MCPV-1.1 but not on the KIT-transformed mast cell line HMC-1.2. The antibody conjugate brentuximab-vedotin that targets CD30 inhibited the proliferation of neoplastic mast cells, strong proliferation-inhibiting effects only being detectable in CD30-positive MCPV-1.1 cells. The effect of brentuximab-vedotin on the growth of MCPV-1.1 cells was also confirmed in an NOD-SCID-IL-2Rγ-/- (NSG) mouse xenotransplantation model. Moreover, it was shown that brentuximab-vedotin induces targeted cell death (apoptosis) in MCPV-1.1. Brentuximab-vedotin also induced apoptosis in primary CD30-positive mast cells, while no significant response to brentuximab-vedotin was identified in CD30-negative mast cells. Our analyses also showed that brentuximab-vedotin can blockade IgE-induced release of histamine in CD30-positive mast cells. Finally, brentuximab-vedotin was combined with the KIT-inhibitor midostaurin, to maximise the growth-inhibiting effect. In these experiments we were able to demonstrate synergistic growth-inhibiting effects of both drugs in the CD30-positive MCPV-1.1 cell line. In summary, our data show that CD30 is a novel therapeutic target in patients with CD30-positive advanced mastocytosis.

The other prize-winners and their papers

MedUni Graz
Mahmoud Abdellatif,
Cardioprotection and lifespan extension by the natural polyamine spermidine

Corina Madreiter-Sokolowski,
PRMT1-mediated methylation of MICU1 determines the UCP2/3 dependency of mitochondrial Ca2+ uptake in immortalized cells

Peter Ulz
Inferring expressed genes by whole-genome sequencing of plasma DNA

MedUni Innsbruck

Stefan Coassin
A novel but frequent variant in LPA KIV-2 is associated with a pronounced Lp(a) and cardiovascular risk reduction
Raimund Pechlaner
Very-Low-Density Lipoprotein–Associated Apolipoproteins Predict Cardiovascular Events and Are Lowered by Inhibition of APOC-III

Verena Wieser
Reversal of murine alcoholic steatohepatitis by pepducin-based functional blockade of interleukin-8 receptors

Paracelsus Private Medical University, Salzburg

Renate Gehwolf
"Pleiotropic roles of the matricellular protein Sparc in tendon maturation and ageing"

Tarkan Jäger
"Applicability of American Joint Committee on Cancer and College of American Pathologists Regression Grading System in Rectal Cancer"

Johannes Koch
"CAD mutations and uridine-responsive epileptic encephalopathy"


About the Sanofi Foundation
The Medical Universities of Graz, Innsbruck, Vienna and Salzburg receive a sizeable grant every year. Each medical University identifies its own prize-winners and prizes are awarded retrospectively for the preceding year. The medical universities invite applications for these prizes and applications should be submitted directly to them. Prize-winners are chosen by a board of trustees made up of professors at the universities. Sanofi is represented on these boards of trustees but has no influence upon the decision.
---