All News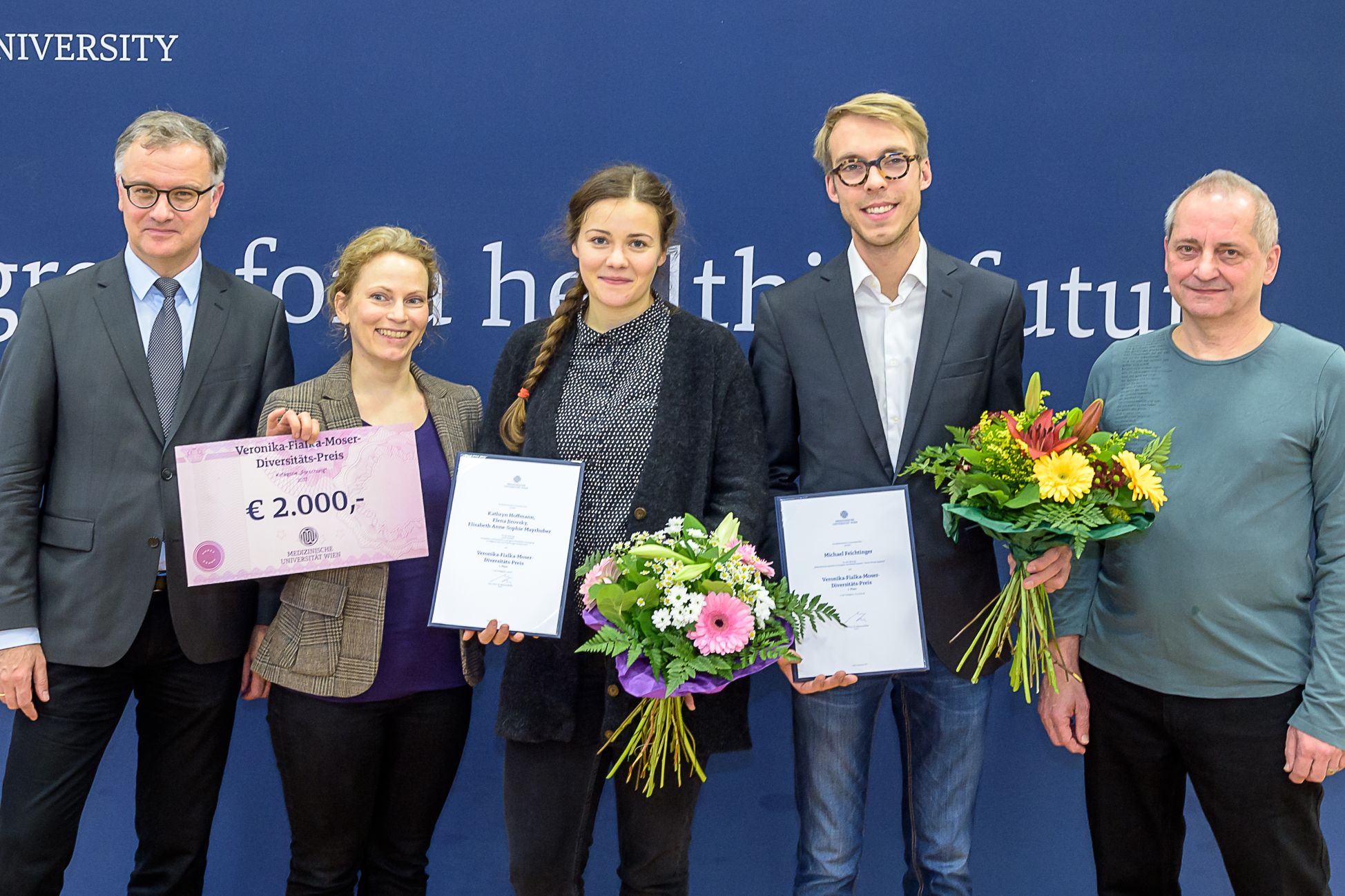 (Vienna, 22 November 2017) Michael Feichtinger from the Department of Obstetrics and Gynecology and the EUR-HUMAN project team from the Division of General and Family Medicine have been awarded this year's MedUni Vienna Veronika Fialka-Moser Diversity Prizes.
This year's prize once again recognises outstanding contributions from the fields of research and education. Prize money of 2,000 euros is awarded for each category. Both MedUni Vienna employees and PhD students are able to submit papers.




Research category
First prize
Michael Feichtinger (Department of Obstetrics and Gynecology): "Reproductive outcome in European and Middle Eastern / North African patients"
The study, which was published in leading gynaecology journal "Reproductive BioMedicine Online", showed that, compared with European women, patients from the Middle East start to want children much earlier on but, conversely, endure infertility for much longer before seeking professional help. At the same time, female patients from the Middle East had less ovarian reserve than European women and the proportion of male-related infertility was significantly higher. Due to these demographic but also clinical differences, the authors believe that greater understanding is required of the specific needs of both male and female patients from the Middle East when it comes to providing treatment for infertility.

Second prize
Thomas E. Dorner, Karin E. Schindler, Sandra Haider, Eva Winzer, Ali Kapan: "Buddy Project": Healthy for Life" at the Center for Public Health

Third prize
Daniela Haluza: "Fatigue and Insufficient Leisure Opportunities in Older Employees"
Education category
First prize
Kathryn Hoffmann, Elena Jirovsky, Elisabeth Anne-Sophie Mayrhuber: "EUR-HUMAN: Competence and safety in healthcare for migrants and refugees (online course)"
Under the direction of the project team from the Division of General and Family Medicine, an online course was developed for doctors, especially GPs, to help them deal with the often complex healthcare needs of refugees and migrants.
The online course not only provides specific information about the bio-psycho-social healthcare needs of refugees and migrants in Austria but it also clarifies the legal situation for doctors and asylum seekers within the primary care system. The course also provides extra information about healthcare offerings, institutions and support organisations in Austria. Overall, the content of this course should help participants to provide healthcare to refugees, which is not only well-informed, integrated and person-centred but also professional and safe.

Second prize
Cosima Prahm, Anna Willensdorfer: "BodyTec Project"
Third prize
Miriam Leitner: "Old, poor and ill" lecture


About the Veronika Fialka-Moser Prize
In order to consciously encourage the discussion about diversity at MedUni Vienna, the university awards the Veronika Fialka-Moser Diversity Prize on an annual basis. MedUni Vienna's intention behind the prize is to highlight the issue of diversity and to recognise contributions in this area. The prize is named after Veronika Fialka-Moser, Professor of Physical Medicine and Rehabilitation, in recognition of her many years of service in the field of Diversity Management at MedUni Vienna.
---