All News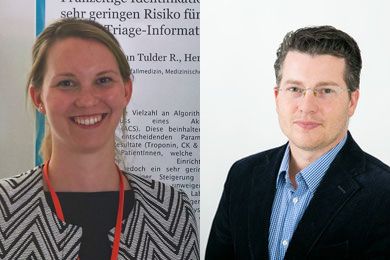 (Vienna, 25 October 2017) Katharina Tscherny and Raphael van Tulder from the Department of Emergency Medicine, MedUni Vienna/Vienna General Hospital, were recognised for their research work at this year's Conference of the Austrian Society for Emergency and Disaster Medicine (16 and 17 October in Bad Hofgastein).
Katharina Tscherny won the Abstract Prize for her paper entitled "Early identification of patients with a minimal risk of acute coronary syndrome using triage information and ECG". In her study of more than 2,700 patients, she was able to show how people with a different risk profile for a potentially threatening cause of their symptoms can be identified at an early stage without the need for laboratory tests .
The Austrian Society of Emergency and Disaster Medicine (ÖNK) awarded Raphael van Tulder the €5,000 Reinhard Malzer research prize to conduct the project "The influence of inflated cuff balloon of the laryngeal tube compared to the endotracheal tube on carotid artery blood flow in anaesthetized patients". The aim of this study is to investigate the potential effects of different methods of airway management on cerebral blood-flow during resuscitation.

Research environment
As was confirmed by the latest CWUR ranking, the Department of Emergency Medicine is one of the world's leading research institutions in this field. The two prizewinners belong to Wolfgang Schreiber's working group focusing on cardiovascular and preclinical emergency medicine.

About Katharina Tscherny and Raphael van Tulder
DGKP (registered nurse for anaesthesia and intensive care medicine) Katharina Tscherny, BSc, BSc, MSc is a member of the medical staff and a registered nurse in the Emergency Medicine Department. After completing her bachelor's and master's degrees in nursing sciences and health sciences, she is currently studying human medicine at KLU (Karl Landsteiner University).
Priv.-Doz. Dr. Raphael van Tulder is a consultant in internal medicine, a general practitioner, emergency doctor and air ambulance doctor. After gaining his postdoctoral qualification at the Department of Emergency Medicine in January 2017, he is currently completing additional specialist training in cardiology at Krems hospital.
---