All News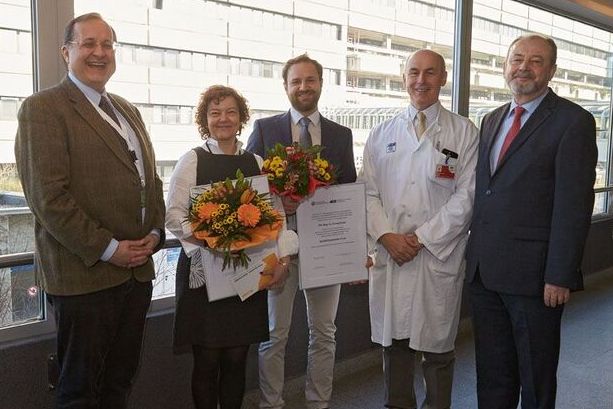 (Vienna, 06 April 2017) Sanela Piralic-Spitzl, clinical psychologist at Vienna General Hospital, and Georg S. Kranz, MedUni Vienna neuroscientist, were awarded prizes for their research work at the 6th Specialist Conference of the Expert Committee for Clinical Psychology of Vienna General Hospital and MedUni Vienna (Clinical Psychology in Science, Teaching and Care).
Sanela Piralic-Spitzl was awarded the Elisabeth Knoll-Biedl Prize for the "Psychological Clinician of the Years 2015/2016" in recognition of her clinical project entitled "Evaluation of an outpatient clinical-psychological pain management group for patients with somatoform pain disorder".

Georg Kranz received the Rudolf Quatember Prize for the "Psychological Researcher of the Year 2015/2016" in recognition of his scientific work "High-Dose Testosterone Treatment Increases Serotonin Transporter Binding in Transgender People" published in the journal "Biological Psychiatry", 2015.

About Sanela Piralic-Spitzl and Georg S. Kranz
Sanela Piralic-Spitzl works as a clinical and health psychologist at the Division of Specialist Anesthesia and Pain Medicine. She was awarded this prize primarily in recognition of her work on evaluating a behavioural pain group for Bosnian/Croatian/Serbian-speaking patients with somatoform pain disorder. This was the paper that gained Sanela Piralic-Spitzl her PhD in medical science at the Medical University of Vienna. She belongs to a team of psychologists that looks after patients with chronic pain. Psychological treatment is now an established component of multimodal treatment for chronic pain, especially for non-oncological chronic pain. Interdisciplinary and interprofessional collaboration is an important aspect of the multimodal treatment concept for chronic pain, in the sense of the bio-psycho-social model.

Georg S. Kranz works at the Department of Psychiatry and Psychotherapy as a Senior Researcher in the Neuroimaging Labs, where he runs the TMS laboratory. Georg Kranz completed his PhD in clinical neurosciences (CLINS N790) between 2008 and 2013 and gained his postdoctoral qualification in neurosciences (Privatdozent, venia docendi) in April 2016 with his thesis "Imaging the effects of sex steroid hormones on brain structure and function". One of the main focuses of his research is the neuroscientific basis of psychiatric disorders. He is involved in several research projects run by the Neuroimaging Laboratory and speaks at national and international conferences. In addition to his scientific work at MedUni Vienna, he also worked at the Viktor Frankl Institute and the Frankl Archive in Vienna for many years.
---