All News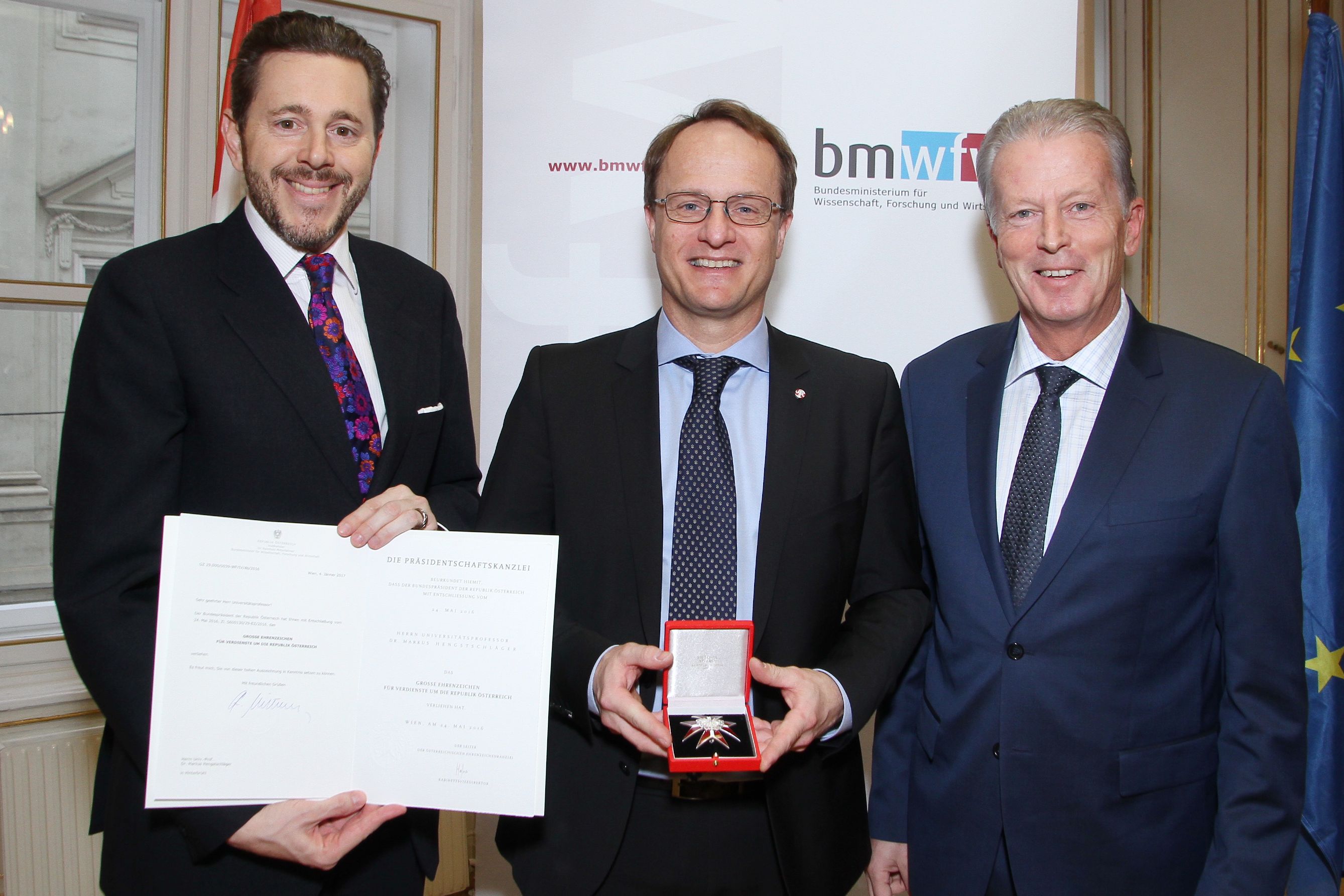 (Vienna, 23 January 2017) At a ceremony held today, Markus Hengstschläger was presented with the Grand Decoration for services to the Republic of Austria by Vice Chancellor Reinhold Mitterlehner and Secretary of State Harald Mahrer.
"He is one of the leading geneticists in Austria and has been stamping his unique innovative hallmark on his field of research for more than 25 years. It is not only his excellent work that sets him apart but, above all, his capacity to act as a bridge-builder within society. He makes research exciting and real," said Science and Research Minister Mitterlehner in his ceremonial address. "Whether as a member of the Bioethics Commission, a bestselling author or as a radio doctor, Markus Hengstschläger always has his finger on the pulse of the sociopolitical questions of the time," commented Mitterlehner.

"With his research, which is also highly regarded internationally, Hengstschläger is helping to enhance Austria's reputation and quality as an important medical and scientific location. In addition to that, we must acknowledge his visionary commitment in the areas of education, university teaching and bioethics. Markus Hengstschläger's efforts to improve Austria's competitive position in the field of international innovation are an example to us all," said Mahrer.

Hengstschläger found international recognition with his research into human genetic disorders, such as tuberous sclerosis, his discovery of stem cells in human amniotic fluid, which was a world first, genetics in reproductive medicine, bioethics, and his innovations in the field of routine genetic diagnostics.

Markus Hengstschläger graduated at the St. Anna Children's Hospital in Vienna, became a university assistant at the Vienna Biocenter in 1990, obtained his doctorate in genetics at the age of 24 and spent a postdoctoral placement at Yale University (USA). After his appointment as a university assistant at the University of Vienna, he was appointed extraordinary university professor in 1998 and in 2004, at the age of 35, became the youngest university professor for Medical Genetics at MedUni Vienna. For many years now he has been Head of the Institute of Medical Genetics and Head of MedUni Vienna's Center for Pathobiochemistry and Genetics.

Alongside his university duties, the award-winning scientist is also Deputy Chairman of the Austrian Council for Research and Technology Development, Deputy Chairman of the Austrian Bioethics Commission, a member of the University Council of Linz University and scientific director of the Upper Austrian think tank, Accademia Superior. In addition, he is the scientific moderator on the Austrian radio station ORF Radio Ö1, author of a large number of scientific publications in top international journals and also the author of three No. 1 bestsellers on the subject of genetics, which have received awards such "Book of the Year", "Golden Book" and "Platinum Book".
---