All News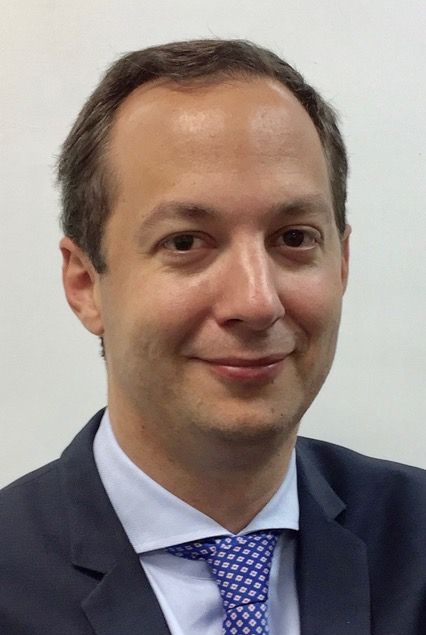 (Coimbra/Vienna, 17 July 2017) Georg Widhalm, neurosurgeon at MedUni Vienna, was presented with the Award for PDD/PDT Research Excellence at the 16th International Photodynamic Association (IPA) World Congress held in the Portuguese city of Coimbra.
Georg Widhalm is receiving the award for his outstanding research achievements in the field of photodynamic diagnosis/therapy over the last few years. Georg Widhalm's team is now one of the world's leading research groups in the visualisation of tumours of the central nervous system using intraoperative fluorescence technology.
In this process, the 5-AminoLevulinic Acid (5-ALA) fluorescence marker is orally administered to patients before the operation, so that the tumour tissue can be visualised due to fluorescence during the operation through a specially modified neurosurgical microscope. This makes it easier to identify and remove tumours during the neurosurgical procedure. The Department of Neurosurgery at MedUni Vienna/Vienna General Hospital (Head: Engelbert Knosp) has now performed more than 1,000 such procedures, making it one of the world's leading centres in this field.
Two groundbreaking findings from studies conducted at MedUni Vienna are of particular importance and have gained worldwide recognition: (1) In the case of radiologically suspect low-grade gliomas, 5-ALA fluorescence is able to identify areas in the tumour that are potentially already malignant. This allows more accurate histological tumour diagnosis so that the post-operative treatment of such patients can be much better managed. (2) For needle biopsies, diagnostic material from brain tumours can be directly identified by fluorescence in the operating theatre, thereby allowing accurate histological diagnosis. This greatly improves the safety of such procedures and significantly reduces the time they take.

About Georg Widhalm
Georg Widhalm started out as a junior doctor at the Department of Neurosurgery of MedUni Vienna/Vienna General Hospital, completed his specialist training in 2009 and has worked as a senior doctor in the Department since 2016. Before taking up his research placement abroad, he served for many years as head of the interdisciplinary neurooncology tumour board within the Comprehensive Cancer Center (Central Nervous System Tumour Unit CCC-CNS). He habilitated in neurosurgery in 2012 and completed his doctorate in 2013 (Dr. med. scient.) on PhD course N0790 at MedUni Vienna (Clinical Neuroscience, CLINS). Since 2014 he has headed up the Neurosurgical Oncology Working Group of the Austrian Society of Neurosurgery (ANCO).
Since August 2016, Georg Widhalm has been on a research placement (Schrödinger scholarship) at the Department of Neurosurgery, University of California, San Francisco (UCSF). Together with the Head of Department, Mitchel Berger, he is conducting a joint study with the Dartmouth-Hitchcock Medical Center (Lebanon, USA). In this study, an innovative spectroscopic measuring probe based on fluorescence technology is being used to further improve intra-operative tumour visualisation. In his capacity as an international expert, Georg Widhalm also participated in the FDA process for approval of 5-ALA for neurosurgical procedures in the USA. His other major prizes include: 2006 Fellinger Cancer Research Prize, 2011 Researcher of the Month at MedUni Vienna, 2011 Vienna Medical Association Billroth Prize, 2017 Mentorship Award in the "Surgical Innovations" competition at the University of California, San Francisco (UCSF).
---