All News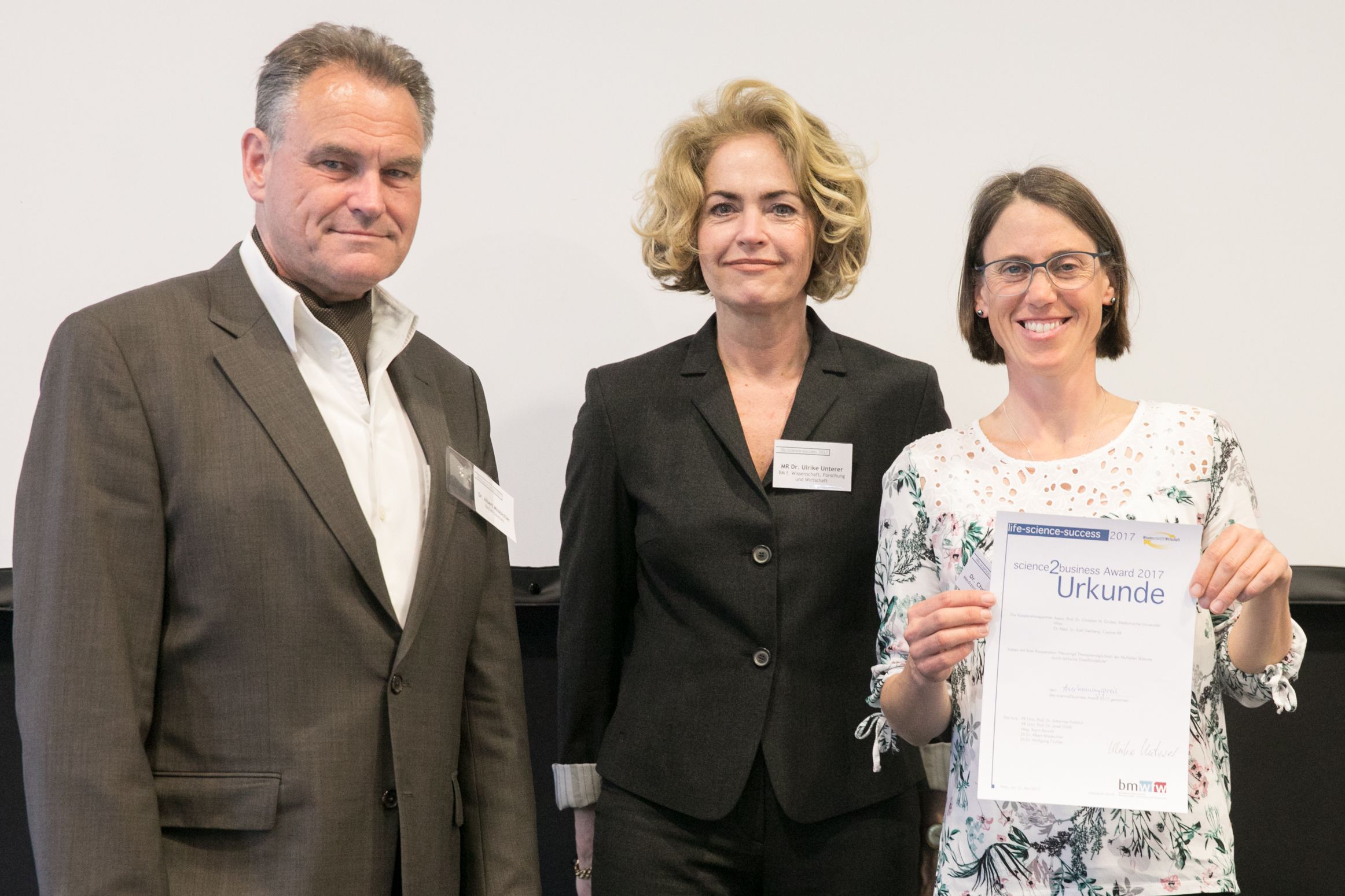 (Vienna, 24 May 2017) A joint project between MedUni Vienna and Freiburg University Hospital, using cyclotides as a treatment for multiple sclerosis, was awarded the Recognition Prize in the science2business awards. This development is an example of a successful transfer of innovation from research to the business world.
The invention "Cyclotides as immunosuppressive agents" comes from Christian Gruber of the Center for Physiology and Pharmacology of MedUni Vienna and Carsten Gründemann of Freiburg University Hospital and has been patented and marketed by MedUni Vienna's Technology Transfer Office (TTO).
It concerns the development of an active agent administered in tablet form to treat multiple sclerosis. In an animal model, Gruber and his colleagues were able to show that, following administration of a special synthetic plant peptide (cyclotide), there was no further development of the usual clinical signs of multiple sclerosis.

The Rectorate of MedUni Vienna and the University of Freiburg were notified of the underlying technological idea behind this joint project, i.e. the use of cyclotides for treating MS, in 2011. Both universities decided to claim their employee inventions and apply for a patent. The Technology Transfer Office (TTO) of MedUni Vienna and the Freiburg Central Office for Technology Transfer contractually regulated the use of their intellectual property and the terms of its utilisation. The first priority-establishing patent application was filed in December 2011. The associated costs were met by the two universities proportionate to their inventive contribution. This was followed by further patent applications.

The technology was successfully licensed out to the Swedish investment group Accequa AB in May 2015. The conclusion of this contract guarantees the ongoing development of the project. The defined goal is first of all to subject the cyclotides to a preclinical programme (e.g. toxicological studies, formulation, pharmacokinetics, etc.) and then take them through to clinical trials (scheduled for the beginning of 2018). The emphasis is primarily on the treatment of MS.
In November 2015, Accequa founded the subsidiary Cyxone AB (www.cyxone.com), which was floated on the stock exchange in May 2016. This meant that the start-up capital was assured and preclinical tests could start.

The science2business award
The science2business award, provided by the Ministry of Science, is given in recognition of the best joint research project between science and industry and one of its key evaluation criteria is successful practical implementation. The prize is open to submissions from throughout Austria.
---