All News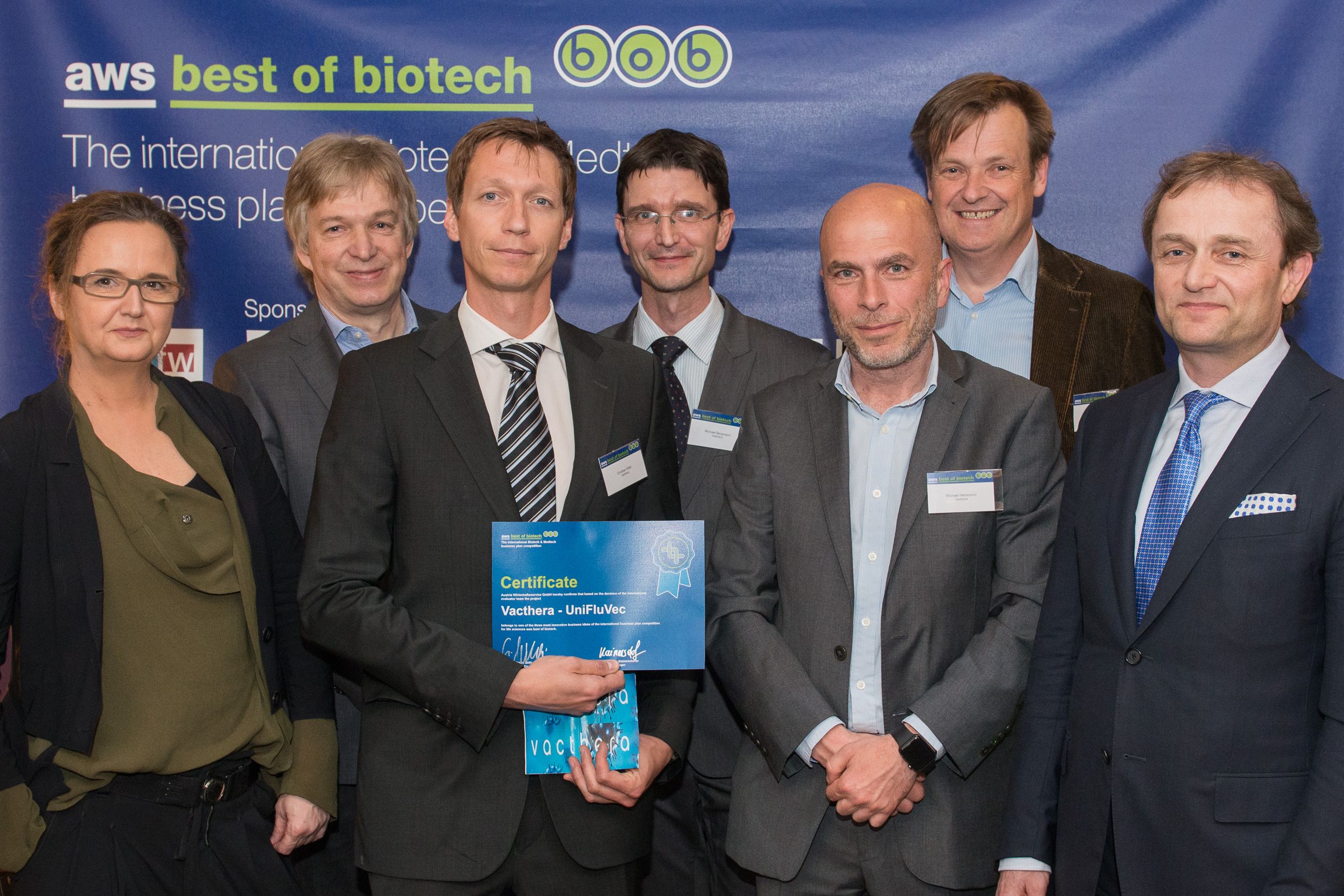 (Vienna, 08 May 2017) A research concept from Vacthera for a new flu virus was awarded a prize as one of the best three Life Sciences business ideas in the first stage of the "Best of Biotech" competition run by Austria Wirtschaftsservice GmbH (aws).
Scientists and students focusing on Life Sciences put their entrepreneurial talent to the test in Best of Biotech and presented their business ideas in the form of a concept outline. Thirty-one business ideas with commercial potential were submitted in the eighth round of Best of Biotech. The aim of the start-up initiative financed by the Federal Ministry for Science, Research and Economic Affairs is to foster the commercial use of research results, thereby consolidating Austria's position as a commercial location with forward-looking ideas. The best three business ideas were awarded monetary prizes in the intermediate round of the two-stage competition:

Vacthera – UniFluVec
Vacthera BioTech has set itself the goal of developing an innovative universal flu vaccine. This vaccine does not need to be renewed each year and – unlike existing flu vaccines – not only protects against future flu viruses but also against potential flu pandemics. Moreover, this vaccine will have the same high level of efficacy year on year and might even extend the vaccination interval to 3 – 5 years. On top of that, it can be administered painlessly via a nasal spray. Andrej Egorov, one of the scientific founders says of the new technology: "Flu viruses are constantly changing their appearance so that the current vaccines are only effective for one year and have to be newly manufactured each year. Following decades of research we have managed to remove this "cloak", so that we can target the preserved interior of the virus."
Michael Bergmann, who has been researching the use of flu viruses in cancer treatment for many years in MedUni Vienna's surgical research laboratory, has taken part in several EU projects relating to viral technology and is co-founder of Vacthera, says of its ongoing development: "The scientific terminology behind our concept can be used for many different medical applications, such as immunotherapy to combat cancer. Vacthera has also demonstrated the scientific "Proof of Concept" for this and these products are now going to be tested on humans in clinical Phase I trials. Andrej Egorov, who was responsible for the start-up side of Phase I testing of a genetically modified seasonal flu vaccine in an EU project several years ago says: "MedUni Vienna offers ideal conditions for conducting joint translational studies like this one."

In the second stage of the competition, which runs until 1 July 2017, candidates are now able to submit their detailed business plans. The competition will provide them with a lot of feedback about these plans. Experts from the industrial, financial and science sectors evaluate the submitted ideas and work with the candidates to develop a reliable business concept – which is the foundation stone for every new company. The current round of the competition will also include supervision and individual coaching of candidates in numerous one-on-one meetings. A network of experts from home and abroad helps the would-be entrepreneurs to work out realistic market opportunities for their business model and supports them by providing contacts in the relevant sectors.
About aws Best of Biotech
aws Best of Biotech is an international business plan competition focussing on Life Sciences organised by Austria Wirtschaftsservice GmbH (aws) on behalf of the Austrian Federal Ministry for Science, Research and Economic Affairs. The competition is run in collaboration with the AplusB Centers (start-up centres of Austrian universities) as well as international partners. aws Best of Biotech is financially supported by Shire, Roche Austria, Boehringer Ingelheim, Plattform LISAvienna and the Tyrol Business Promotion Agency.

About Austria Wirtschaftsservice GmbH (aws)
Austria Wirtschaftsservice GmbH (aws) is the Austrian state development bank. By offering securities, grants, capital and credit at favourable interest rates it helps companies to implement their innovative projects, especially in cases where the necessary funds cannot be fully raised from other sources of finance. On top of this, it offers specific information and advisory services for aspiring, existing and expanding companies.
---