All News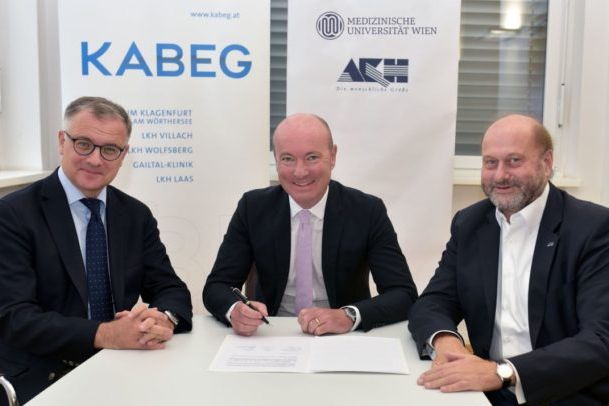 (Vienna, 26-09-2017) The Medical University Vienna, the AKH Vienna and the KABEG (Kärnten Federal Hospital Operating Companies) have signed a Declaration of Intent for the intense cooperation in the science, research and patient administration sector. By networking the Comprehensive Cancer Center Vienna with the Clinic Klagenfurt, the diagnostic and therapeutic knowledge is to be consolidated in order to provide utmost treatment quality in Kärnten.
As a specialised hospital with central supply, the Clinic Klagenfurt, operated by KABEG, plays a major role in the healthcare provision in Kärnten. The Clinic is considered the oncological reference centre and main hospital in oncology in Kärnten. The close network with the Medical University Vienna and the General Hospital of the city of Vienna is designed to further improve oncological care. The therapies for tumour diseases are becoming more individual and specialisations are gaining significance. "With the intensified cooperation, we are able to revert to the expertise of the Vienna specialists while simultaneously providing the patients with local care", so KABEG Chairman Arnold Gabriel. It will also be possible for the patients of Kärnten to participate in clinical studies and thus obtain access to modern treatment methods. For this purpose, Markus Müller, Rector of MedUni Vienna, Herwig Wetzlinger, Director of the sub-companies AKH Vienna and KABEG Chairman Arnold Gabriel have signed a Declaration of intent with specific contents.

Clinic Klagenfurt shall become partner of CCC
MedUni Vienna and AKH jointly operate the Comprehensive Cancer Center Vienna (CCC). The Clinic Klagenfurt will be an affiliated partner of the Centre. In the future, an oncological centre is to be also established in Klagenfurt. "Next to excellent treatment of patients suffering from cancer, with the explicit promotion of clinical studies, the Comprehensive Cancer Center considers the fundamental research of the origin, the growth and the spreading of tumours as its foremost tasks", explains Rector Markus Müller.

Special attention for medical training
The Clinic Klagenfurt is already the teaching hospital for MedUni Vienna; students can complete parts of their training in Kärnten. "In future, physicians in Kärnten will be able to complete further specialised training in Vienna", says Herwig Wetzlinger.


The pillars of the cooperation
The diagnostic and therapeutic knowledge will be consolidated by the intensive exchange in oncological research and therapy.
The adoption of quality management systems and process models of the CCC will ensure utmost treatment quality.
Physicians of Kärnten will be offered specialised training taught at MedUni Vienna.
Together with the Clinic Klagenfurt, KABEG shall become affiliated partner of the Comprehensive Cancer Center and certified as such.
Several clinical studies and research projects shall be executed jointly.

A working group with members of KABEG, AKH Vienna and MedUni Vienna shall develop the details further.
---