All News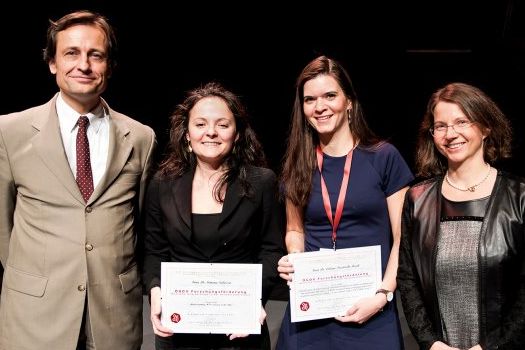 (Vienna, 20 December 2018) At the Annual Meeting of the Austrian Society of Dermatology and Venerology (ÖGDV) in Innsbruck on 1 December 2018, Liliane Borik and Simona Saluzzo from MedUni Vienna received ÖGDV "Clinical researchers in dermatovenerology" research funding worth €50,000 each.
Simona Saluzzo from the Division of Immunodermatology and Infectious Skin Diseases is working on the project "Understanding HIV Latency in the skin".
Liliane Borik, also from MedUni Vienna's Department of Dermatology, is working on the project "Identification of clinical, genetic and immunosuppressive factors predisposing to non-melanoma skin cancer (NMSC) in immunosuppressed organ transplant recipients compared to controls – a case-control study (TX-NMSC Study)".

About the prize
The purpose of this ÖGDV research funding is to give doctors working in clinical practice who have a manifest scientific interest some space to carry out research as they build up their careers. The prize is awarded once a year on the basis of a points system and is decided by two independent (international) assessors.
---